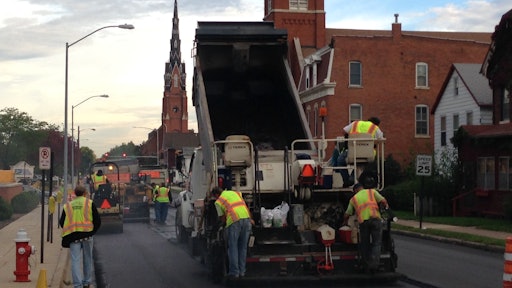 Contractor adoption of telematics is somewhere between 7% and 17%, depending on who you ask, despite the fact that 80% of heavy off-road machines produced in the U.S. since 2009 come equipped with the machine monitoring technology. Its low usage may just make it one of the best opportunities a firm has to gain a competitive cost edge. The challenge is to figure out how to integrate data streams beaming wirelessly from equipment into your construction processes.
Members of the Association of Equipment Management Professionals (AEMP) Technology Committee, which include both telematics providers and contractors, have been studying telematics implementation on construction equipment for years. We asked these committee members for three pieces of advice they consider most important for contractors adopting telematics systems. Their answers were insightful and remarkably uniform.
1. Figure out what you want to improve.
Prioritize your top revenue generators and/or cost-saving opportunities to work on first. "Work on only three priorities at a time," recommends Jeff Cohen, vice president at Telogis, a telematics provider. "Write out at least nine, but start with the top three. When you have recognized those benefits, your next phase is to move on to the next three priorities."
Automating accurate collection of equipment data can improve all disciplines of a construction company — not just equipment management, but also project management, estimating, accounting and safety. You will succeed faster and easier if you know what those priorities are before selecting a telematics vendor and setting up a system.
"Identify a telematics champion in each department of your company," adds Christopher Seelan, president of telematics provider GenesisCircle. "Learn how telematics data can be made useful in each discipline and integrate the data streams into these departments based on how they use it."
Hint: No matter how accurate you think your reporting system is now, measuring machine utilization is one priority where most adopters clearly recoup their telematics investment.
2. Find a telematics vendor that you can grow with.
"The key is to be working with a good partner because you're going to have some growing pains implementing these systems," says Mickey Hammers, equipment coordinator with Traylor Bros. Inc., an Evansville, IN-based infrastructure contractor. Traylor Bros. has been managing equipment for about 10 years using telematics, relying for the past three years on third-party provider LHP Systems. "You need to interview these guys. See who they're doing business with, how long they've been in business, how many terminals (telematics boxes) they have out there working. Get a feeling for if they know what they're talking about or if they're just getting started and looking for their first off-road equipment customer."
A primary measure of vendor candidates is the range of data their systems deliver and the flexibility of their reporting systems. They have to be able to deliver data that addresses your priority revenue and cost opportunities in a way that makes it easy to accomplish goals.
"Vendors will say in their sales presentations, 'Here's all the data our system offers,' but you don't want to have to sort through a hundred pieces of data to get the three or four things that you want," says Hammers. "The risk is that if what you want doesn't match up exactly with what they offer, it might actually be fairly difficult to get just what you want."
"Don't get wrapped up in the jargon, double-speak and misinformation," advises Stew Skomra, president of telematics vendor Temeda. "If the telematics technology supplier obsesses over acronyms and abbreviations, spewing streams of jabberwocky, simply call them out on it. Make them use plain language so that you understand everything that you need or want to know about the tool."
"Don't forget to check how they do their installations," cautions Hammers. "Bad installs can cause havoc, with false data and failed boxes."
The mechanics of telematics are pretty simple: you want high-grade electrical connections sealed against moisture, and entire systems protected by fuses. "And you've got to have a good view of the sky," says Hammers. "Surprisingly, we've had some guys install them where they don't. If the antenna is under sheet metal or something, you're not going to get good cellular or satellite contact."
Hammers recommends ongoing audits, comparing telematics reports to hour meter readings and fuel purchase records to ensure that the data you get is accurate.
Hint: Make sure the telematics boxes you're having installed on machines communicate over 3G or 4G cellular networks. The major cellular providers are replacing 2G towers with the newer networks.
3. Jump in — but make sure telematics information is used to transform your costs.
"Do your homework," cautions Bill Schwing, equipment manager with Cincinnati-based heavy contractor John R. Jurgensen Companies. "Take your time figuring out how you will use telematics data to improve your company now and in the future. But once the information is gathered and the vendor is selected, you have to make it happen."
The AEMP technology committee has seen contractors stumble over hardware and software snags, lingering too long in implementation without results. "Analysis can easily become paralysis in this industry. If you don't start somewhere, you are simply costing your company an opportunity to realize benefits," says Cohen.
"Dedicate the resources," Schwing says. "Have one or two people assigned to the [telematics implementation] project. You must make sure the information is being utilized. Collecting the data and not using it is wasting your money.
"Let the system push out data," he adds. "Don't make people search for the data. Let the system do the work."
Schwing has been working with telematics data provided by OEM devices on Jurgensen equipment, and is actively evaluating third-party vendors to collect that data into a single system so he has visibility to the entire fleet.
Hammers administers Traylor Bros.' telematics data. With five years on the job and about 135 units reporting data, it's not his only work. He also helps manage the company's Evansville equipment office, some equipment rentals and disposals. But monitoring telematics data flow and making sure the right people in the field get information in a form they can use is his primary responsibility.
Field people — those with the greatest opportunity to improve revenue and costs with telematics insights — can have a hard time turning data into actionable information on their own. "You really need to assign somebody the task of analyzing data and generating reports and helping the projects use that data. Have it be their primary task," Hammers says.
That person shouldn't have to be an information technology (IT) professional. "If you need an IT person to put the telematics solution to work for you, then the solution is too complex," says Skomra. "This does not mean that you will not benefit from involving IT professionals. It does mean that the telematics solution is deficient if it cannot provide you with benefits without investing IT resources. Your IT people should only be enlisted for integrating the telematics solution in ways that provide you with unique, sustainable competitive advantage."
In other words, most people can use basic telematics information — machine operating hours, location, fuel consumption — to produce measurable improvements in a firm's costs. There will likely be enough savings here to pay for your telematics investment.
The ultimate goal, however, should be to collect data feeds from multiple equipment brands into one system that offers management insight over a diverse fleet of equipment, then integrate that data throughout your company processes. Results from thorough efforts like this are transforming early adopters' expectations for safety, productivity and project profit.
Hint: "Network with companies using telematics two or three steps ahead of where you are," urges Dan Samford, vice president of Herzog Contracting's equipment division. "You can learn from the issues they've already resolved."
AEMP and its Technology Committee represent an opportunity to learn from other construction firms that are undertaking this challenging transformation.
Companies in this article