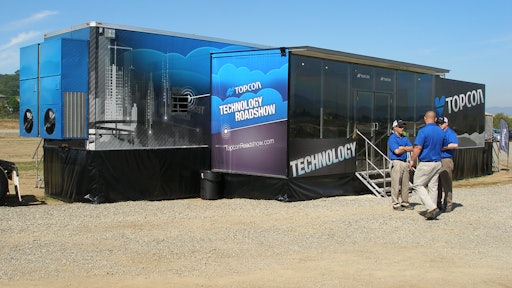 Hot on the heels of a CONEXPO-CON/AGG 2014 dominated by talk of construction-site electronics, Topcon kicked off its Technology Road Show this week with what I think are several compelling reasons contractors should start planning to invest in improved productivity.
Here's the reason you should be looking at GPS and laser grade-control systems and other technologies that improve control over jobsite productivity: 
1. Annual, global expenditures on infrastructure will have to grow from the $12 trillion dollars spent in 2012 to $35 trillion by 2030 to accommodate 22% population growth to 9 billion people. The global construction industry's maximum capacity today is estimated to be in the neighborhood of $24 trillion. 
So how do you make up the $11 trillion difference?
Topcon's vice president of marketing, Mark Contino suggests part of the answer lies in another study that measured 20% waste in all construction projects, on average. Waste due to mistakes, poor planning, delivering the wrong or excess materials to a jobsite, poor communication all resulting in rework.
Even if you don't buy the 20%-waste estimate, nobody doubts that technology can dramatically reduce construction waste.
2. But the reason many of your competitors will be investing in productivity technology very soon is because their competitors recently have. 
Every manufacturer asked why they were spending so much time talking at CONEXPO about jobsite technology counted customer demand among the top reasons.
"We had small mom-and-pop contractors coming into our CONEXPO booth and saying 'We've been neglecting this technology for years, but now the market is really changing and I need to do something to compete. What do you have?'" said Contino.
The company claims that less than 40% of the orders they processed at CONEXPO were from existing customers. 
For Topcon, the icing on the cake was escalating demand for technology solutions from equipment manufacturers.
"Successful equipment manufacturers don't get into a whole new technology unless customers demand it," said Murray Lodge, executive vice president and general manager of Topcon's construction division. "And right now, requests to us from OEMs have gone through the roof."
Surging demand for grade control and other site technology pushed Topcon to upgrade the Technology Road Show. The road show enterprise represents a lot of different things, but one message that should not be overlooked is its cost. 
Topcon customized a semi trailer to expand from both sides to create an air-conditioned theater and showroom more than 20 ft. wide. They're committed to staff it for three days of presentations at each of 23 stops in North America over the next six months. Topcon dealers are invested in the program, too. They will provide graders, dozers, excavators and trucks and equip them with technology. (The program is a lot more than video and PowerPoint. It includes hands-on learning.)
It's all dedicated to a construction industry that has consistently spent on information technology at half the rate of all other industries.
Topcon and its dealers aren't the only ones betting substantial dollars that the construction industry is accelerating its spending to improve processes and productivity. 
Can you afford to be left behind?