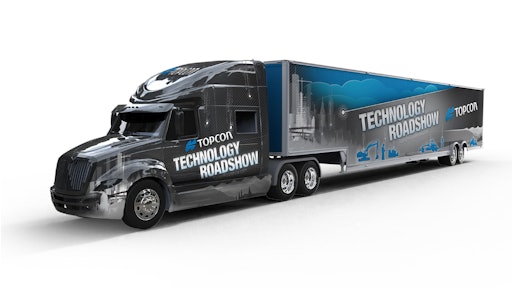 Topcon Positioning Group announces the Topcon Technology Roadshow truck is coming to World of Concrete 2016. The mobile solutions center provides a hands-on environment for the latest construction, survey, civil engineering, architecture and design technologies.
"Many end-users are familiar with the Roadshow truck as our way of bringing Topcon solutions directly to their communities across North America. As an integral part of our World of Concrete exhibit, the Roadshow truck will provide the perfect arena to showcase our most up-to-date solutions to attendees with interactive demonstrations," says Scott Langbein, Topcon Positioning Group director of marketing in the Americas.
Along with all the latest Topcon construction and surveying solutions, the mobile solutions center will have an extra focus on excavation and layout in demonstration areas outside the truck.
The World of Concrete exhibition is scheduled to run from February 2 – 5. The Topcon Positioning Systems main booth will be located at booth #C5160 in the Las Vegas Convention Center.