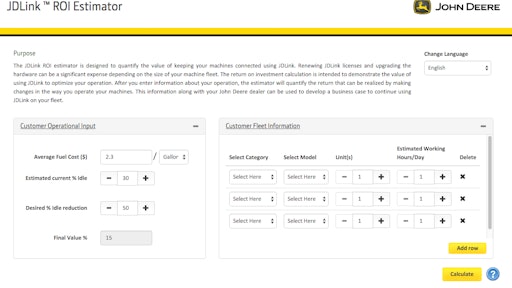 The new JDLink ROI estimator by John Deere is designed to quantify the value of keeping machines connected using JDLink and is part of a bigger effort to continually educate customers on technology and its benefits in improving productivity, uptime and lowering daily operating costs.
Customers visit roicalculator.deere.com and fill in the customer operational input functions, including average fuel cost, estimated idle time percentage and desired idle time percentage. From there, a final value percentage is calculated.
Customers then enter their specific fleet information including models, number of units and estimated working hours per day. Once all information is entered, the calculate function will quantify the return that can be realized by making changes in the way a customer's machines are operated.
This information, along with a John Deere dealer, can be used to develop a business case to continue using JDLink.
"Renewing JDLink licenses and upgrading the hardware can be a significant expense depending on the size of your machine fleet," said Paul Garcia, product manager, John Deere WorkSight. "The return on investment calculation is intended to demonstrate the value of using JDLink to optimize our customers' operations."