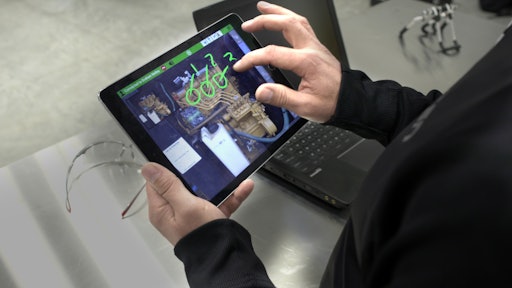 Scope AR, creator of augmented-reality smart instructions and live support video calling, issued a license to Caterpillar Inc. to provide a live-support video calling platform built specifically for Caterpillar to provide remote assistance to heavy machinery users.
The first-of-its kind partnership allows Caterpillar dealers to use the communication and video capabilities of mobile devices such as smart phones and tablets to phone an expert if they need support and show a technical problem to a Caterpillar expert in a remote location. The system leverages the capabilities of augmented reality for live support in repairing, troubleshooting a problem or conducting maintenance on equipment by allowing the remote expert to see the probem equipment and annotate the live imagery in addition to speaking with him, guiding the technician in the field to a solution. 
"This is about delivering an entirely new, interactive interface for remote workers to more effectively and efficiently communicate with experts in real-time, wherever they are," said Scott Montgomerie, CEO and co-founder of Scope AR. "With machinery and equipment becoming increasingly complex, we are excited to partner with Caterpillar to provide the technology tools they need to share expert knowledge more quickly and deliver the remote support needed to get equipment back up and running faster."
"At Caterpillar, we are always looking for innovative ways to enhance our customers' operations and experience with using our equipment," said Lonny Johnson, senior engineering project team leader at Caterpillar. "Through our partnership with Scope AR, our operators and dealers now have access to a superior level of remote support that will dramatically improve comprehension and reduce downtime costs at millions of job sites across the globe."
The new platform is based upon Scope AR's Remote AR technology – an augmented reality-based remote assistance application – and will include advanced features specific to the industries surrounding Cat products. The platform combines augmented reality with live video streaming, voice, live annotation, screen sharing and white-boarding to simulate the effectiveness of having the expert looking over your shoulder guiding you on what to do step-by-step.