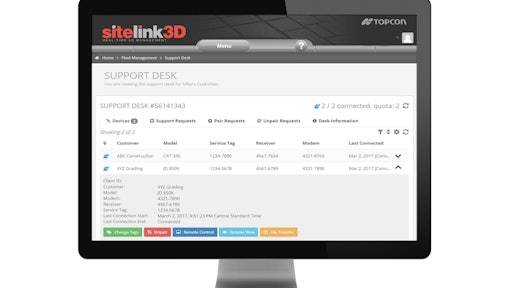 Topcon Positioning Group announces a new service tier for its real-time 3D jobsite monitoring and management system — Sitelink3D Support Desk. This service offers a bundled cellular data plan — eliminating the need to provide an external SIM card for both Sitelink3D and the new Sitelink3D Support Desk packages. 
"The new entry-level service offers both remote support and file transfer. When service situations arise, Sitelink3D Support Desk provides real-time connectivity allowing Topcon support staff and distributors to view, and remotely adjust configurations and settings on the control box, as well as send and install any updates," said Murray Lodge, senior vice president and general manager of the Construction Business Unit. "The remote service heavily reduces machine downtime, with most issues resolved in real time, without the need for an in-person troubleshooting call."
The system update is also designed to deliver a more cost effective service for the full array of Sitelink3D features with the bundled data plan.
"This service allows equipment managers to track their Topcon machine control components through the Support Desk interface using any web browser," said Lodge. "Contractors with large fleets often have difficulty tracking components, when their 3D systems move between machines. Now with Sitelink3D Support Desk, they can use pairing tags, a new feature of Support Desk, to track those components as they are moved from machine to machine."
The service is designed to improve support workflows with requests submitted directly to a selected Support Desk by the machine operator. The support request will generate notifications on both the Support Desk webpage, and by emailing each support tech — improving response times.
"Once connected, Sitelink3D Support Desk users can easily upgrade for the full advantages of Sitelink3D and Sitelink3D Enterprise — with no additional hardware," said Lodge.