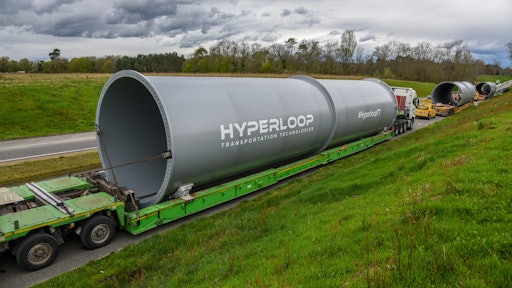 Hyperloop Transportation Technologies
Hyperloop Transportation Technologies has received the first set of tubes for its people and freight system. The tubes were delivered to the company's research and development center in Toulouse, France. The company is beginning construction on its first phase, which includes a closed 1,050-foot system with plans to be operational this year. A second full-scale system of just over half a mile will be elevated by pylons to 19 feet high and completed in 2019.
[VIDEO] First Full-Scale Hyperloop Tubes Arrive
"Building in full-scale means we're committed to innovation in the long-term," said Bibop Gresta, HyperloopTT Chairman. "We've pioneered the technology, proved feasible and insurable by the world's largest reinsurance company, Munich RE.  We have agreements in place in nine countries where we're working on feasibility and regulations. We have a research center for freight and logistics in Brazil and a facility in Toulouse where we'll deliver the first full-scale passenger capsule. Hyperloop is no longer a concept, it has become a commercial industry."
(more on HyperloopTT's full scale construction...)