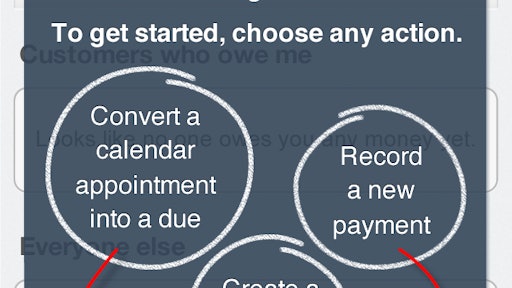 Intuit Inc. (Nasdaq:INTU) has launched MoneyDue, a free app that turns business appointments into payment reminders on iPhone and iPod Touch devices.
The new app from Intuit PaymentNetwork uses the calendar feature on the iPhone or iPod Touch to convert calendar appointments into payment reminders. The system also gives small business owners the ability to see payments owed and payments received through their calendar appointments.
"One of the biggest problems facing small businesses — contractors, freelancers and tutors — is that they don't get paid fast enough," said Yumi Clark, a director for the Intuit PaymentNetwork. "MoneyDue allows users to turn time into money by reminding customers to pay when services are due. The app helps busy small business owners professionally manage money flow from their smartphone."
Tracks payments, sends bills
The MoneyDue app can:
Track Payments: MoneyDue gets small business owners up and running in the time they would spend at a stop light. The app, which downloads in about a minute, gives users the ability to track payments owed and payments received, all through the calendar feature on iPhone or iPod Touch.
Send E-bills: Small business owners who wish to add an e-bill to a calendar appointment can create a free account through the Intuit PaymentNetwork. This gives users the ability to add an online payment link to calendar appointments.
MoneyDue users who want to take e-bills to the next level can create an online payment link using the Intuit PaymentNetwork. The Intuit PaymentNetwork is a cost-effective and fast way for small businesses to get paid for only 50 cents per bank transaction. The protected online service lets small business owners quickly and efficiently send invoices with a payment link. When used with MoneyDue, this creates a seamless transition to help small business owners get paid on time.
Pricing and availability
The MoneyDue App is available for free from the App Store on iPhone and iPod Touch or at www.itunes.com/appstore.