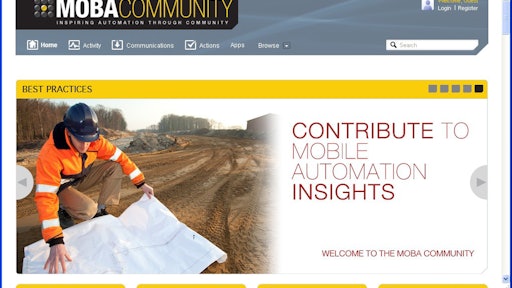 The new MOBA Community opens the unique possibility to discuss, provide and ask for information, to encourage new trends online – independent from time and place - for the mobile automation industry.
The MOBA Community provides a new, dynamic and open network for experts, professionals and connoisseurs of the mobile automation industry worldwide. "We want to create a virtual meeting place and space for our branch," said Volker Harms, CEO MOBA Mobile Automation AG. "The MOBA Community opens the chance for every person to participate actively, to ask questions, to exchange experiences and to generate new ideas."
Dividing the MOBA Community into different fields makes it clearly arranged and also makes it easy to use. This way, each participant directly gets to themes of his or her interest. In the Technical Support area, experts give quick and helpful advise on questions concerning applications, systems and products.
Engineers and developers from any company can start, follow and participate in discussions in the specifically set up forum "Engage Engineers".
Under "Best Practice", participants can exchange experiences, report about applications and inform themselves about different themes - like road construction, earthmoving or waste disposal.
The MOBA Community has been online since mid-July 2012.
Companies in this article