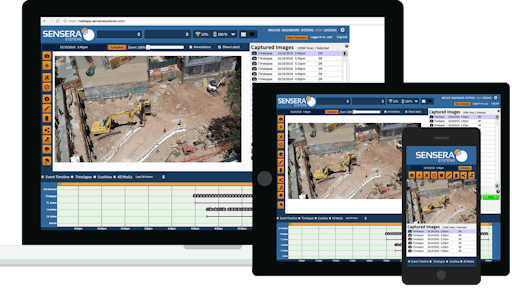 The SiteCloud platform provides easy-to-use software for viewing, monitoring and sharing real-time jobsite images, video and data. Integrated with Sensera's jobsite cameras, SitePOV mobile app and SiteCloud-AERIAL drone photography service for comprehensive automated site progress monitoring from a simple web interface. SiteCloud service includes WiFi and 4G/LTE connectivity.
SiteCloud POV helps contractors automate as-built image capture and photo management. This mobile app extends the SiteCloud software and cameras by providing mobile photo management to your entire team. Capture construction progress images from around the site on a smartphone or tablet and the management of those images is fully automated by SiteCloud.
SiteCloud-AERIAL is a turn-key drone photography service for construction progress documentation. With SiteCloud software, this service provides complete image capture, archival, sharing and workflow for drone-based video and photography. The no-touch drone photography service eliminates needs for Part-107 certifications training, owning, maintaining and transporting drone equipment, offloading and uploading photos, and third-party software systems for archiving and sharing. Use SiteCloud-AERIAL to order the number of drone flights you need for a project and reschedule when needed.
In addition, the SiteCloud camera carrying case can be used to transport Sensera camera systems. The hard case is waterproof and airtight with a foam custom die-cut insert to fit the system exactly..

Request More Information
Fill out the form below to request more information about
Sensera SiteCloud Platform