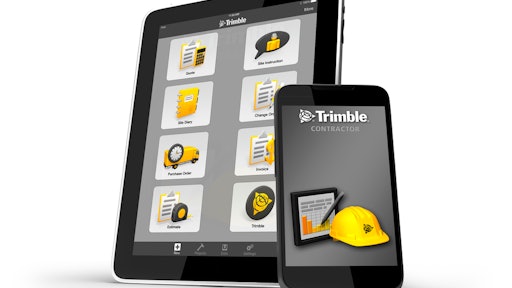 Mobile app: Trimble Contractor
Developer: Trimble Navigation Limited
Cost: Free
Available on: Apple and Android devices
Trimble Contractor is designed for small site and utility contractors to help minimize paperwork, automate processes and organize their businesses from the field. According to Trimble, the app can help contractors identify potential problems quicker, stay on top of work progress, and spend less time doing paperwork and tracking. As a result, contractor can often bid more accurately and get paid faster.
Construction contractors can use the app to create, send and track quotes, purchase orders, change orders and invoices. Users can also track digital work instructions and monitor project status remotely.
The app also features site diaries which help track daily activities and keep track of site progress against quotes. According to Trimble,  the visibility to site progress through the site diaries, which can include photos, time sheets and material quantities that are submitted by employees is one of the apps key features.
Site instructions can also be created and sent to employees. The site diaries can also be used as a digital timesheet which allows the data to be verified and documented.
Video: Overview of Trimble Contractor Mobile App
Data recorded in the app can be exported and integrated into third party accounting and payroll systems.
App features:
Create quotes directly from a customized price or item list
Send quotes to customers via email
Store quotes on your mobile device
Get on site approval from customers
Attach notes, sketches and photos  to quotes
Track material charges and compare against quotes
Charge for changes or variations and have documented proof of the change order
Create invoices directly from quotes
Send invoices and track project and payment status