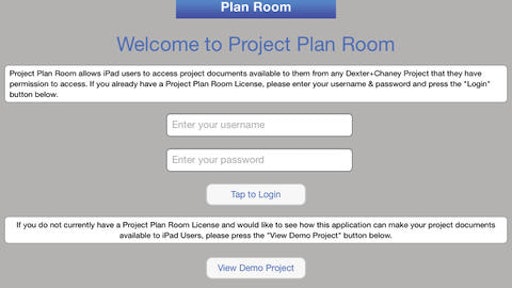 Mobile app: Project Plan Room
Developer: Dexter + Chaney
Cost: Pricing varies depending on company's Spectrum Construction Software configuration
Available on: Apple, Android and Windows Surface tablets
Designed to increase efficiency and collaboration between field staff and the office, the Project Plan Room mobile app from Dexter + Chaney allows contractors to distribute construction documents, communicate critical data and relay vital project information in real time to employees on the jobsite.
"Project Plan Room puts the equivalent of pounds of paper, typical of complex construction projects, into the hands of the people who need them wherever they are working. Instead of running back and forth to the job shack or trailer, they simply walk out to the site with a tablet where they can access the plans and specs they need. And with simple zoom-in/zoom-out viewing, a tablet turns into a powerful viewing tool for even large and complex documents," says Wayne Newitts, marketing director with Dexter + Chaney.
One benefit of the Project Plan Room app is contractors can make documents readily available to all team members without requiring those outside of the company to pay for access or learn a new software application. And the automatic version control features of Project Plan Room ensures that everyone is always working off of the most recent project documentation.
Project Plan Room works seamlessly with Dexter + Chaney's Spectrum Project Management (SPM) application. All project documents that are managed with SPM are available through Project Plan Room, and all changes and updates made in the field via Project Plan Room are reflected in SPM. There is no duplication of effort – the field app works hand-in-hand with the enterprise-wide software system.
App features:
Remotely access the latest versions of plans, specifications, drawings and other documents
Synchronizes with Spectrum's Plan Room application
Zoom in on documents for more details or a closer look at drawings and sketches
Work on or offline with no dependency on Internet connection to operate or view documents
Project Dashboard lets user see all projects and drill down into the details all from a single screen
Review documents in thumbnail, tile or full screen formats
Control who can view and edit every document, sharing only with those who should be included
Keep all your documents organized with an easy to use folder system
Enterprise-class hosting with full security, data backup and high availability
Companies in this article