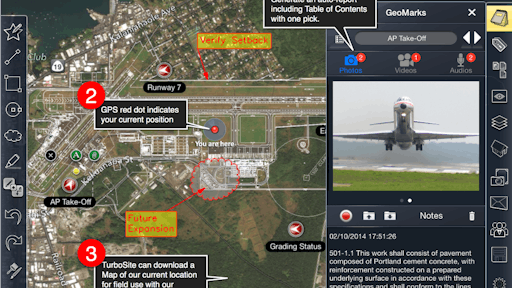 Mobile app: TurboSite
Developer: IMSI/Design, LLC
Cost: Free
Available on: Apple devices
TurboSite is a family of mobile field reporting apps. The app uses GPS or SPS (Sensor Positioning System) to know where you're at in your drawing plan with or without connectivity to the Internet, satellites, cell towers or wifi. GeoWalk tracks your location within a structure or site. GeoNudge lets users pinpoint their exact location.
"TurboSite was designed from the ground up to optimize the field observation, documenting and reporting workflow as a single solution" says Doug Cochran, CTO at IMSI/Design. "We not only made it easy to record issues in the field, but also the capability to auto-generate an organized report in one step. This saves enormous amounts of time by eliminating the need to download, compile, and organize field data back at the office."
Video: Overview of the TurboSite Mobile App
TurboSite Standard is free and can be upgraded to TurboSite Plus ($9.99 per month or $199 purchase) and TurboSite Pro ($29.99 per month or $499 purchase). The Standard version is great for small- and medium-sized projects. The Plus version is designed for medium- to big-sized projects that require a large amount of documentation. The Pro version is great for big projects with lots of things to document and the need for the power of 3D PDF viewing and markup, as well as real-time Facetime and Skype video conferencing, specialized cloud and FTP file export, and the widest selection of viewing modes on any mobile device.
The Standard app allows users two geolocated GeoMarks with the ability to add photos, videos, dictation and text notes to those exact spots. The upgraded versions allows for an unlimited number of these intelligent content markers that are auto-located and oriented.
TurboSite can also be used to redline a 2D or 3D drawing with markup, dimension and inquiry tools. The app features AutoShapes, a first-of-its-kind way to draw accurate geometry with simple gestures. The rough shapes you draw with your finger are automatically refined to accurate geometry.
App features:
Import GPS Maps as an image underlay or site background for precise alignment and location
Immediately share reports electronically with the design and construction team
Instantly print a customized PDF report for hardcopy distribution
Support for hidden and shaded visual styles
Unique "always facing" text and dimensions that always face current view in 3D
Contact management built on top of native contacts (so all current contact info is available)
Content Manager allows you to create, name, edit, remove, and import content
Markup and annotate photos for additional info and clarification
Organize contacts into groups for easy "one tap" sending of shared drawings or documents to large design and construction teams
File manager with search capability
Import and export video and pictures to/from camera roll
Support for 15 languages