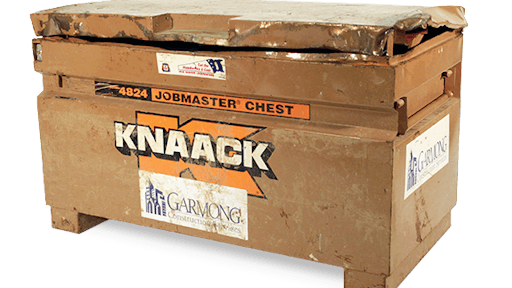 Recently, thieves broke into a building under construction looking to steal tools. The jobsite, a building under renovation near the Honey Creek Mall in Terre Haute, Ind., was secured at the end of the day in typical fashion – locks and dead bolts on both the front and rear doors of the building and a functioning alarm system. Sometime in the night, the would-be thieves entered the building from the rear, prying the outer steel door completely off its hinges, destroying the dead bolt and closer, after first removing the electrical meter on the exterior wall of the building.
Upon entering, the forceful intruders went for a KNAACK Jobmaster Chest sitting in the foyer, completely ignoring other equipment on the second floor that had been left unsecured and in plain sight. With the chest padlocked to a stair rail with a vinyl-coated, cut-resistant cable, the thieves attempted to get at its contents by prying open the lid.
Local police aren't sure how long the would-be thieves worked at prying open the tool chest. Intruders typically want to make off with equipment within about 5-10 minutes.
"The box was pretty damaged when I found it the next day," said Ben Douglas, equipment manager for Garmong Construction Services.
"We estimated the value of the equipment inside the box at approximately $3,000," Douglas adds. "When you add up the value of the tools inside the box, the amount of downtime, plus the whole process of filing an insurance claim for the stolen tools – well, the Jobmaster paid for itself right there – many times over in fact."
Construction site theft is big business in North America, with annual losses totaling nearly $1 billion, as reported by the U.S. Department of Justice and the FBI. But the value of materials and equipment taken hardly compare to the indirect costs of theft; costs such as job delays, operator downtime, rising insurance premiums and the risk of policy cancellation, which can jeopardize bonding and borrowing power.
"In 15 years of selling, managing and purchasing construction equipment, I have seen several jobsites and storage devices broken into by thieves," Douglas adds. "This is honestly the first time I have seen evidence of a piece of security equipment performing better than advertised and greater than expected."
Companies in this article