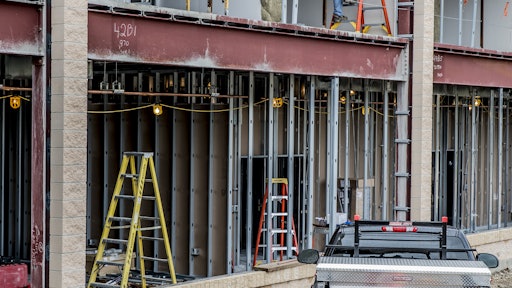 For those professional contractors that rely on their tools and equipment to get their jobs done it's important to take safety precautions. Construction companies can become an easy target for theft — both during and after work hours. 
There are many ways that you can ensure tools and material goods are kept safe, from extra lighting around the jobsite to storing your tools in a lock tight storage box. 
While these tips will not guarantee your important items are always safe, it will strongly help deter theft and vandalism. Construction site crime cannot only cause financial hardship but also delay production schedules.
1. Signage
One of the number one and lowest cost deterrents is adding a simple sign. Consider adding a sign that reads, "24 Hour Video Surveillance". Another sign offering rewards to those who turn in thieves or provide valuable information on crimes is also a helpful deterrent.
2. Security lighting
Set up extra lighting and/or motion-censored lights around the jobsite. Darkness invites crime, so the more light you have the better the protection.  
3. Barrier protection
Adding some type of barrier protection, like a fence or guardrail, makes it tougher for the bad guys to get in and to take your supplies out. Look for ways to keep the important items properly secured and protected with barriers.
4. Alarm system
Before leaving expensive equipment or tools on the jobsite, install an alarm system and/or security cameras. An average alarm system is less than $10 a week and offers 24 hour monitoring and protection.  
5. Control access to the jobsite
Having just one entry point in and out of your jobsite will cut down on crime. A popular trend right now is Geofencing, a virtual barrier using GPS to track behaviors using mobile phones. This has been particularly helpful for payroll and inventory.
6. Neighboring businesses
Ask neighboring businesses to watch your jobsite when you aren't there. Businesses that watch out for one another and look for suspicious activity can be another preventative to crime.
7. Convenience stealing
While you don't want to believe your employees could ever steal from you, it's important to take precautions before hiring. Take the time to perform background checks and previous employer references before hiring new employees. While it takes time to do the research in advance, it can save money and challenges in the future.
8. Jobsite box protection
Tools and equipment should be kept in a safe and secure location. With the extra security of a jobsite storage box thieves will not have a chance of getting to your most valuable tools.
Jobsite Storage Chest Foils Construction Theft
9. Use common sense
Use common sense to ensure that no tools or valuable equipment is left out in the open throughout the day, especially at lunch time and after everyone goes home. Creating a checklist of items to inventory at the close of business helps cut down on theft.
10. Documentation
Always photograph, document and record the serial numbers for your equipment, tools and material goods for insurance purposes, in the event that something is stolen. This will be extremely handy if you want to claim any stolen items with your insurance company.
If your jobsite is a victim of theft or crime, you should have a contingency plan in place, which should include the steps to take and important numbers to have on hand. Both the local police numbers and jobsite owner name and number should be on file and accessible to everyone on the jobsite.
And as a preventative measure, always ensure your equipment and tools have the proper warranties and have been registered with the manufacturer. This will make replacing your stolen tools much easier and in some cases cheaper.
Mike Bykowski is a senior product manager at KNAACK, LLC. Mike  plays  an  integral  role  and  is  involved in all aspects of the product development life cycle, including strategic planning, business development, marketing, promotions, packaging and value stream mapping. Mike has extensive experience in the manufacturing business as well as first-hand customer knowledge from being a professional in the industry that KNAACK targets.
Companies in this article