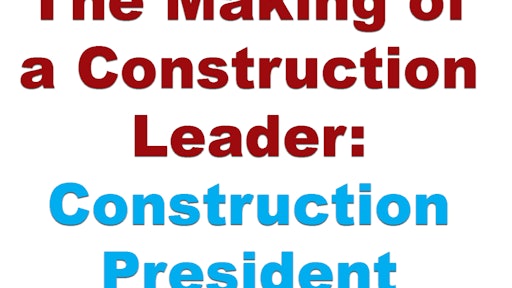 While the job title "president" isn't new to contractors, what is newer are the diversified functions that many construction presidents fulfill. In the smaller construction business, the president still performs a lot of the roles and duties that he or she has always fulfilled. Estimating, meeting with clients, sales, jumping in here and there to help start or finish a job, passing out checks, and negotiating a deal to purchase equipment is just a brief representation of what a president might do.
As the contractor's business begins to grow in size, however, many of the before-mentioned tasks and duties must be delegated to others who can focus more time on them. But even in this situation the president is still just a quick glance or cell call away from offering a consultant's viewpoint to needed action. For many construction presidents it is difficult to completely "walk away" from what they have performed in the past.
* Before we move into our discussion today, a few preliminary thoughts about the construction president position. Many contractors, of all sizes, admit that we seem to be losing leaders who are especially experienced and gifted in the actual constructability side to construction; we're losing people who have seasoned hands-on experience and who have seen their share of experiences. In looking to appoint a new president it is critical that you include in your assessment that individual who has spent proven time on projects, executing the building processes followed by your construction specialty.
While we need experienced leaders at all levels of our organization, the need for someone who has "been there" is even more critical at the president's position. Now, in some situations, finding such a person might be nearly impossible or hiring that person might be cost prohibitive. In such situations, then, you will want to surround your new president with as much hands-on experience as possible.
So, what does today's construction president focus on? What does his or her weekly schedule look like from a task-and-responsibilities perspective? Let's take a brief look into what that looks like for many presidents in today's construction companies.
Oversees the entire company
Operations, pre-construction, field superintendents, project management, business development, estimating, finance, human resources, client relations, bank and insurance relations — to name just a few. Certainly the president works through the leaders who are closer to these areas of the company, but still the president is most often updated on each area, determining what area might need his or her time each week.
Represent the company at social/networking opportunities
The president is "The Main Event" at social and networking opportunities. While other company leaders also need to be engaged, it is still the president who can garner the most attention and perhaps provide the most influence when it comes to public events. Not all presidents are comfortable with this function, but it is still a critical role that a president must fulfill.
Think strategically with the owner to develop growth and business strategies, goals and action plans
This effort, also shared with the vice president, is critical because it is most often the president who should be leading this strategic effort. For many contractors the president and owner is one in the same. But for the contractor who has a "non-owner" president, it is the president who must drive strategic thinking, meetings, planning and execution.
Represent their company with local financial institutions
It is the president who represents the business to banks and other financial institutions. It is most likely the president who walks into the banks to negotiate for loans, discusses company financials and takes the "whippings" if there are to be negative discussions.
Actively engage with bids, presentations and negotiations
Because of the overall perspective of the company, the president is most likely engaged with growing the business, putting his or her stamp on such things as pulling final bids together, leading or participating in making presentations to potential customers, and playing either a direct or consultant role whenever negotiations are required.
Lead and push company leaders to stay on top of industry trends, processes and technical improvements
It is the president who sends out reminders, verbally and by email, to all senior leaders about staying current on just about anything that relates to improving the company. While the president should be an avid "student" as well, driving his or her team of leaders to be on the cutting edge is key to building a company that will thrive, grow and be sustained — and not depend solely on the efforts of the president.
As a company grows, the president is often the first to recognize that he cannot do it all. He needs support and leaders who will take them to new limits of performance excellence.
Confront and encourage individuals
I've always noticed that it is most often the president who can wear her feelings on her sleeves. While the president needs to be professional in her demeanor, it is the president who needs to confront wrong behavior or wandering decision makers. It is also the president who should be the first to congratulate the leaders and workers for success and for great quality, safety and client performance. There should be a healthy respect for the president by all of the company workers, knowing that the president is holding everyone accountable to "do things right the first time!"
The company's "weather man"
It is the president that must be looking at the "building storms or cloudy conditions" and address the employees involved. This requires the president to be freed up enough to take the temperature of the workers, especially key individuals who are critical to the success of work acquired or work completed. When business "storms" are coming it is the president that makes the final decision on how best to weather the storm.
When business "skies are sunny" it is the president who should be leading the charge to congratulate, thank and recognize.
Primary face with bankers, bonding institutions and major "other" organizations such as health care, equipment, etc.
Somebody needs to represent your company with higher-level individuals, and the president appears to be the most likely face with bankers, bonding executives, health insurance representatives, etc. There are always exceptions to this, but for the small to mid-size contractor it will most likely be the president who engages in this very critical area of company expenses.
Represents the "moral compass" of the company
Construction continues to be an industry where bending the rules is a daily challenge. It is the president who can continue to be the beacon for doing the "right thing" at every turn. This is no easy task as some jobs and some clients can offer a great temptation to act just outside of what is morally, ethically, even legally acceptable or required. Thus, the president must beat a regular drum to be a company of highest ethics and practices.
The above observations are admittedly limited. There is so much more that great construction presidents perform, but much of what the focus of a president should be is captured above.
Keep in mind the size of construction company can dictate how much "making" is to be done before or after a promotion or new hire decision is made.