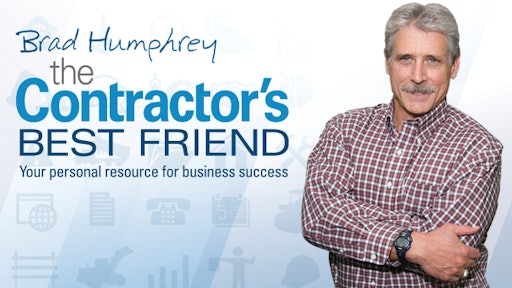 The Contractor's Best Friend weekly newsletter is written specifically for the construction industry by Brad Humphrey, a veteran construction-industry consultant who offers down-to-earth, how-to advice to help contractors of any size - in any industry - improve the management and operation of their business.
So why is improving business management and operations important? Because even the smallest Improvements will make your business more efficient and more cost-effective, improving your bottom line and making you more profitable and more competitive in your market.
How can The Contractor's Best Friend Weekly Newsletter Help You?
The Contractor's Best Friend will provide you with insights from one of the most respected consultants, speakers, trainers and corporate coaches in the construction industry. It will answer important questions like:
What techniques can I implement to help grow my sales?
How do I make my business more successful than my competitor?
How do I differentiate my company from my competition?
The answer in broad terms is management, and these – and many more issues – are addressed weekly in The Contractor's Best Friend. 
You, too, can receive a weekly "visit" from The Contractor's Best Friend for less than the cost of a latte. The newsletter is a quick read you can absorb over a cup of coffee and then easily incorporate Brad's valuable advice into your business. Sign up for The Contractor's Best Friend and take the first step to strengthen your business!
Read a sample e-newsletter here:
Issue #28: 7 Tips to Keep Your Company Thinking from Going to the Dogs!
Issue #40: The Making of a Leader: The General Superintendent, Part 1
Issue #41: The Making of a Leader: The General Superintendent, Part 2
Issue #47: 8 Tested Techniques for Getting Sales...NOW!
Meet Brad Humphrey
Brad Humphrey has been involved in the construction industry for more than 30 years. He started his career as an apprentice plumber during his early years of college and over the years has been a partner in several successful contracting companies including paving, flat work concrete, and even the pool building business. Throughout his career, Brad has served at the front line as well as at the senior leadership level and many positions in between.
While he's provided growth and operational strategies to some of the biggest general construction contractors throughout the world – he works with contractors of all types and sizes from smaller "mom and pop" businesses to growing mid-size firms. Brad's nickname, The Contractor's Best Friend, was given to him by several of his clients. It's a nickname that has "stuck" and he feels honored to have.
Brad has authored several books and written more than 150 "how-to" articles that have been published in more than 15 construction industry trade magazines. He's developed more than 100 contractor-focused educational workshops, including his very well received Leadership Boot Camp and Leadership Boot Camp+, intended for the developing foreman, superintendent, and project manager. 
5 reasons you need a visit from "The Contractor's Best Friend"
1.  Brad understands your business – he's got more than 25 years assisting thousands of contractors
2.  Not every contractor can afford a consultant – but most could benefit from one.
3.  Weekly "visits" keep company development top of mind
4.  Small insights acted on regularly can make a huge impact over the long term
5.  Brad brings a practical, common sense, and humorous approach to his writings that you'll enjoy reading with your cup of morning coffee