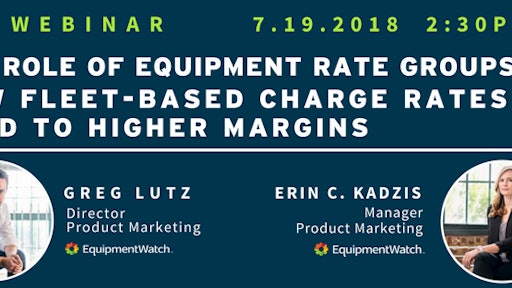 Free Webinar: Fleet-Based Charge Rates Lead to Higher Margins
Fleet Managers, construction companies with rental units, and beyond - Join us for a conversation exploring the newest addition to EquipmentWatch, Rate Groups. Save your seat now or learn more here.
EquipmentWatch's existing Internal Charge Rate tool is great when setting rates for individual models. But how often do fleet managers and equipment managers know exactly which model will be used on any given job? Hence the birth of Rate Groups. In this free webinar, we'll introduce you to the new Rate Groups feature and explain what it could mean for your profitability.
Discussions you can look forward to:
Ways to evolve your equipment divisions into a profit center
How to get the most value from your Rate Group reports
Estimation accuracy with in-depth customization adjustments
Live demonstration
Learn more at the registration page or save your seat now. Even if you can't make it in person, sign up and EquipmentWatch will send you the recorded version of the live presentation.