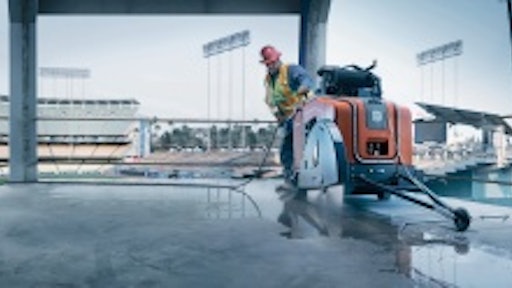 Concrete cutting can be a dirty job, often producing a cloud of dust. One element contractors may not think about, or not think much about, is what is in that cloud of dust. Concrete contains a compound called crystalline silica, which when exposed in the air can be a major health concern.
Crystalline silica is a common compound found in many elements including sand, quartz, flint and slate. The silica compound is not hazardous unless it is exposed in the air. This often occurs when concrete is crushed, ground or cut with a saw.
Exposure to airborne crystalline silica can put workers at risk of developing silicosis, a non-curable lung disease caused by accumulation of silica dust in the lungs. The dust embeds itself in the lungs and causes scar tissue to form. The scar tissue reduces the lungs' ability to take in oxygen. According to the OSHA website, "Symptoms seldom develop in less than five years and, in many cases, may take more than two years to become disabling or cause death." Silicosis can also contribute to other health problems such as tuberculosis. Although there is no cure for silicosis, it is preventable if the proper measures are taken to protect employees on the jobsite.
The National Institute for Occupational Safety and Health (NIOSH) has defined the recommended exposure limit for airborne crystalline silica as .05 mg/cubic meter for up to 10 hours per day during a typical 40-hour work week.
The Department of Occupational Safety & Health Administration (OSHA) has specific regulations for concrete cutting and dust containment: regulation 29 CFR 1926.55 Gases, vapors, fumes, dusts and mists. Within that regulation it states employers are required to "avoid" employee exposures to silica beyond the exposure limits and also required to implement controls to minimize or eliminate exposure. If an employer suspects silica dust may be present on a jobsite, OSHA requires that employer to communicate the risks to employees whether or not it is known for sure. It is important to be aware that airborne crystalline silica may be present even if no dust can be seen.
Citations for violations are meant to serve as incentives for preventing and correcting these violations voluntarily, says Kimberly Stille, area director for USDOL-OSHA, Madison Area Office. "Citations classified as Serious may carry a penalty of no less than $100 and no greater than $7,000. Citations classified as Willful may carry a penalty of no less than $5,000 and no greater than $70,000. Citations classified as Other-than-Serious may carry a penalty of no less than $100 and no greater than $7,000. Citations classified as Repeat may carry a penalty of no greater than $70,000. Failure to abate cited hazards may result in additional penalties of $7,000 per day beyond the abatement date," Stille says.
Methods of control
OSHA specifies that an employer must "implement the best possible permanent solution" for reducing and/or eliminating crystalline silica dust. OSHA suggests three methods of controlling silica exposure when cutting concrete: engineering controls, administrative actions and personal protective equipment. Engineering controls keep silica dust out of the air. These include wet cutting or using a hose to water the area, exhaust ventilation and dust collection systems on equipment.
If using a vacuum system, it is suggested that the vacuum be equipped with a HEPA filter for collecting dust.
If engineering controls are not possible, OSHA then suggests improving work practices. Employees who are more knowledgeable about the presence and dangers of crystalline silica will hopefully be more likely to take precautions on the jobsite. Having regular meetings with employees can be a great opportunity to discuss silica dust.
The third method of control OSHA suggests is personal protective equipment. However, OSHA believes this to be only a temporary solution and should not be the primary method of control. Personal protection equipment that can be used includes respirators and masks.
If respirators will be used there are certain rules that must be followed, Stille adds. A written respirator program must be put in place, respirators should never be altered or tampered with, and all employees should be trained on how to properly wear and work with the respirators.
Prevention of silica exposure can start even before the first cut is made. Stille suggests contractors pre-plan all work, evaluating the potential for creation and/or existence of airborne crystalline silica. If exposure is present, she says contractors should monitor the air to determine the amount of airborne crystalline silica. And if respirators will be used, make sure they are used properly and in compliance with OSHA regulations.
California has taken control of dust exposure one step further. In October 2008, Cal OSHA adopted a new regulation requiring the use of water or vacuum dust control systems with the use of power tools when cutting, coring, drilling or grinding concrete or masonry materials, says Cal OSHA Division Chief Len Welsh. This allows Cal OSHA to cite for violating a specific regulation rather than a general standard. Welsh says the California reg is pragmatic and simple enough that other states may look to adopt it in the future.
OSHA & CSDA Alliance
OSHA and the Concrete Sawing and Drilling Association have formed an alliance to work together to provide information, guidance and access to training for contractors involved in concrete sawing and drilling. The alliance's goal is to help protect employees' health in the workplace. Minimizing employee exposure to silica dust is just one of the issues the alliance is working on educating contractors about.
In 2007, the alliance published its "Reducing Silica Exposure" fact sheet. To view the fact sheet and learn more about the alliance and what it does, go to www.osha.gov/dcsp/alliances/csda/csda.html.
Additional Resources that Build on the Topics of this Article
Checklist for Employee Exposure Monitoring
OSHA Silica eTool
Crystalline Silica Exposure in the Construction Industry
Cal OSHA Control of Employee Dust Exposure