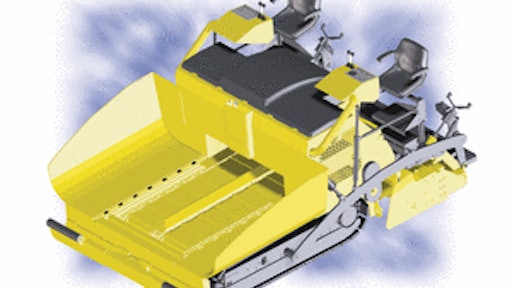 BF6615 Paver
The 20,500-lb. BF6615 self-propelled asphalt paver features the UNIMAT electrically heated, full-width floating screed, which delivers a standard 8- to 15-ft. paving width.
99-hp Cummins water-cooled, turbocharged diesel engine with ECO-mode
Dual vibrators provide 2,500 vpm
9-ton hopper capacity
Working speeds up to 180 fpm
Crawler-style track drive system undercarriage with bolt-on polyurethane track pads
World of Asphalt Booth #811
BOMAG Americas
FASS-DRI PSA (Pavement Sealer Additive)
Fortified with Sand Suspension Additive
Blackest color - toughest film
Available in 2-gal. pails
For coal tar, asphalt or blends
Maintenance Inc.
Generation II Magma Series
Cimline Generation II Magma Series
Cimline's Generation II Magma Series melter/applicators features 110-, 230-, and 410-gallon capacities.
Superflex III heated hose
Wand incorporates replaceable aluminum pipe, ball valve construction and trigger flow control
Pump is mounted on the back of the unit in a heated cabinet
60-gal. unit also available
Cimline Inc.
PRE17658
Generation II Magma Series
Cimline incorportates a new hose design, new wand construction, and improved external pump design to its 110-, 230-,and 410-gallon cracksealing melter/applicator models to create the Generation II Magma Series. The electrically heated Superflex III hose offers a lightweight and nearly kink-free design. Paired with the new standard wand which features replaceable aluminum pipe and ball valve constrction, advanced trigger flow control, and can be broken down for storage operators can enjoy a 24-foot application reach. The external material pump design features a 1 in.-diameter shaft, 30% longer bearing life, and a direct-mount hydraulic motor.
Cimline, Inc.
Glass Bead System
The Mar-Don glass bead system attaches to walk-behind stripers for one man striping and glass bead placement and less wasted material. The gravity fed hopper sets up directly behind a spray gun giving the operator a direct line of sight to the spray gun. Thumb screws allow for easy bead spread adjustment from 2 to 12 in. The bead tray is ribbed and fully adjustable, and the bead dispensing door can be adjusted from a setting of 1 through 5 depending on the desired amount of bead.
Mar-Don, llc
Mobile Camera System
The Elgin Mobile Camera system is available as an option for Elgin Sweeper street sweepers. The multi-camera system includes both mirror and rear-view camera kits and provides operators with expanded visibility to the main and side brooms as well as to the rear of the sweeper. The monitor in the cab provides the operator with a detailed view of the main and side brooms to check the collection of debris. The operator can also switch to a rear view when backing up, turning or changing lanes.
Elgin Sweeper Company
Patriot
The Kasi Patriot uses infrared technology to blend new asphalt in with the original by heating an area 6 to 8 inches beyond the perimeter of the repair creating a seamless permanent restoration.
2- or 4-ton asphalt reclaimer
Large tool storage area
Compactor compartment
Dumping waste bin
Battery system can be recharged from the vehicle or an overnight charging system
30-gallon water tank and a timer that alerts the user when asphalt is heated to temperature
Kasi Infrared
PowrLiner 8900XLT
The PL8900XLT is powered by a Honda 4.8-hp OHV engine. The2.35 gpm hydraulic piston driven line striper has pneumatic tires, heavy-duty epoxy-finished frame, large hose storage rack and convenient on board 12-gal. hopper.
Titan Tool Inc / Speeflo
Sure Stripe 4550
The Sure Stripe 4550 offers the convenience and flexibility of the compact frame used on the model 4050, with the two-spray gun power and legendary durability of Airlessco's SL Slow-Stroker paint pump. The SL pump has a large one-piece stainless steel piston, stainless pump body and check balls. Extra large tungsten carbide reversible seats, along with an externally adjustable triple-life packing system results in reduced maintenance, lower operating costs, and longer equipment life. This pump has the power to spray a wide variety of pavement and athletic field striping paints. An available second gun kit lets you stripe lines up to 24 in. wide. Popular features include a gun mount system that allows you to quickly move guns to any corner of the machine. The front wheel can remain locked for straight lines or be operator released from the handlebars, allowing the front wheel to swivel when painting curves or circles. Inexpensive adjustable turnbuckles provide Radius Memory for consistent striping of arcs and circles even on rough surfaces like sports fields. Wheel locks both rearward to stripe up to walls or forward for maximum wheelbase length for long runs.
Airlessco