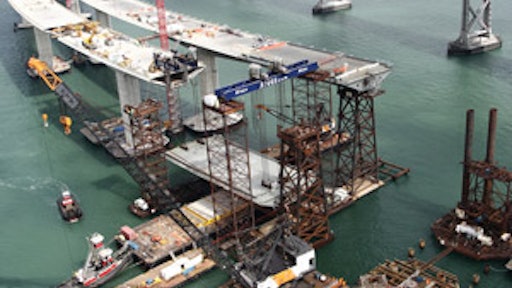 Bigge Crane & Rigging, San Leandro, CA, a firm specializing in heavy lifting applications, has installed the second of a pair of 2,000-ton steel bridge deck sections on the new San Francisco Oakland Bay Bridge. The second mega-lift operation completes the transition spans between the concrete Skyway bridge on the Oakland side and a suspension bridge (not yet built) to Yerba Buena Island.
The first transition span, carrying the eastbound carriageway, was lifted into place overnight in early February. The second span, which will carry westbound traffic, also took just 10 hours to lift in an overnight operation in late August.
"To lift a 2,000-ton load that is 200 ft. long and 85 ft. wide to a height of 200 ft. is an operation that requires precise engineering and thorough planning," says Weston Settlemier, president of Bigge Crane & Rigging. "To do it twice is something special for us."
Prior to each lift, the transition span section, or "tub", was loaded onto barges for transport from Portland, OR, where it had been fabricated. With bridge piers, erection towers and other obstacles, there was no space to bring a barge in at the correct angle under the bridge. As such, Bigge loaded each tub onto the barge using 48 axle lines of Scheuerle self-propelled modular trailer (SPMT). The SPMT enabled Bigge to rotate the tub by the necessary 90°.
Each tub was raised to a height of approximately 200 ft. within tolerances of 1/32 of an inch. To move such a heavy weight so precisely, Bigge used computer-controlled Hydrospex strand jacks.
On the Oakland side (to the east), where the Skyway bridge deck was already constructed, four strand jacks - each with a 365-ton lifting capacity - were mounted on a mobile jacking platform supported by a pair of 60-ft. girders, cantilevered off the bridge deck. On the San Francisco side (to the west), main contracting consortium Kiewit-FCI-Mason constructed two steel lifting towers, founded on piles driven into the bay for this purpose. Bigge supplied the two girders spanning 125 ft. across the top of the lifting tower, as well as six 235-ton-capacity strand jacks mounted on top of a mobile jacking platform that sits on the girders.
All of the jacks were synchronized for simultaneous operation and load control within 1/32 of an inch. The strand jacks raised the load at speeds of up to 30 ft. per hour, maintaining within an eighth of an inch of the required attitude.
Once the tubs were in place, temporary support towers were moved underneath. The second tub will be held in this manner for three months until the concrete joint with the existing Skyway is poured and cured, filling a gap of roughly 6 ft. The San Francisco end of the tub is being supported by another temporary tower until the suspension bridge is constructed.
The new Bay Bridge is expected to cost $6.3 billion with completion in 2012.