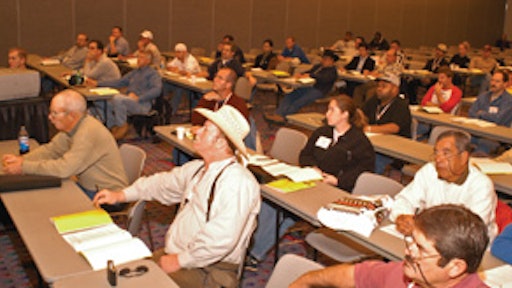 More than 1,300 people attended the 2004 National Pavement Expo West, held Dec. 2-4 at the Las Vegas Convention Center in Las Vegas, NV.
"National Pavement Expo West offers an environment where contractors can meet, share ideas, and learn," says Loretta Miles, NPE West show manager. "Our seminar selection paired with the exhibitor booths gives all contractors — veterans and newcomers — a comprehensive experience.
"The strong attendance numbers demonstrate that paving and pavement maintenance contractors throughout the West have a growing interest in examining first hand the products available on the market, learning more about the business through seminars and workshops, and meeting other contractors from around the country."
Walking the floor
With 87 exhibitors from every walk of paving and pavement maintenance, contractors had many products to explore. This year's show had 13 first-time exhibitors, including Ames Engineering, Inc., which showcased its "California-style" laser profiling systems, and Mesabi Tools, which makes paving implements such as lutes and asphalt shoes. Dennis Ware of Ware-Ever Pavement Maintenance Co. brought his Backseat Driver, a tool organizer that attaches to any Lazy Liner or LineDriver, to the show for the first time this year, and Waterblasting.com, which manufacturers the Stripe Hog high-pressure water stripe removal method, was available to answer questions about its new system. Popular seminar and workshop presenters at both National Pavement Expo shows and authors of Pavement's "Tailgate Talk," Brad Humphrey and Jeff Stokes brought their 7 Non Negotiable Laws of the Successful Contractor to the exhibit floor at the Pinnacle Performance Group booth.
Other newcomers to the exhibit floor included EZ Estimating, which offers estimating software for the maintenance contractor; Advanced Traffic Markings, with their line of preformed polymer traffic marking tapes and symbols; Feng Shen Development Co., Ltd., which displayed their patented, waterproof crack repair system; Logan County Asphalt, manufacturers of ProLine, a polymer modified cold asphalt; Asphacolor, which makes color additives for conventional asphalt and asphalt emulsion sealers; Center Capital Corp., which offers equipment financing; Trout Associates, with their natural tar and asphalt removers and cleaners; and McDonough & Sons, which sells sweeping equipment.
Here are just a few of the other exhibitors contractors saw at the show:
SASE Company, Inc., known for its wide array of surface preparation equipment, showcased its new skid-steer-mounted remover attachment. The SST Remover eliminates all types of road markings, including paint, thermoplastics, and epoxies. It features an oscillating head and adjustable depth control.
At the Elgin Sweeper Company booth, contractors could learn more about the company's mechanical, vacuum, and recirculating air sweeper models or partake in a demonstration highlighting the FleetMinder software, a GPS and mapping system which monitors and records system components and their functions.
Chameleon Ways Natural Aggregate Bond Surfaces gave contractors a hands-on example of their various hot and cold applied surface products. From colored pavement to road marking alternatives, Chameleon Ways is a source for a variety of decorative, functional, and skid-resistant pavement enhancement.
Contractors were given the chance to learn more about towable debris blowers for quick and easy site clean-up at the Buffalo Turbine booth.
Airlessco had its two newest striping units, the Spray & Stripe 3500 and SURE STRIPE 4000, on display in their booth. The 3500 is popular choice for use as a second color machine, while the 4000 is designed for full-time duty using one gun.
Keizer-Morris International not only had its KM 4-48 Asphalt Recycler, Crack Jet heat lance, and KM 4000 hotbox reclaimer on display in its booth, but also gave show goers a chance to get acquainted with its new name and the company's new owner, Ron Macey, who was on hand to greet attendees and talk about his company's machinery.
Sweeping contractors took advantage of the knowledgeable staff at the Contract Sweepers Insurance booth, where president Scott Cerosky was available to answer questions about CSI's Clean Streets Program, a nation-wide insurance program developed specifically for the sweeping industry.