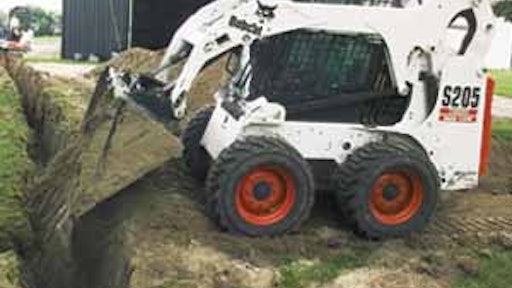 Bobcat S205 Skid-Steer Loader
Bobcat Co. expands its skid-steer loader line and introduces the S205. The new vertical lift path machine is 66 in. wide (60-in. wide with optional offset rims), with a 2050-lb. rated operating capacity (ROC). The unit, which features a 118.2-in. lift height, provides the operator with good visibility to key areas during operation. The S205 offers 16.3-gpm auxiliary hydraulic flow and is powered by a 61-hp turbocharged diesel engine. It also has a high-flow option to increase auxiliary hydraulic flow to 25.5 gpm for operating attachments requiring more hydraulic flow, such as planers and stump grinders.
Deere T-Series Gator
The Gator T-Series offers three models - the TS, TX and TH6x4. All the new models offer a ground speed of 20 mph. The TS features a 10-hp Kawasaki engine, 40-in.-long cargo box and a 500-lb. capacity. The TX is equipped with a 13-hp Kawasaki engine, all-wheel suspension and a 600-lb. capacity. The TH 6x4 is powered by a 19-hp Kawasaki engine, features a 44-in.-long cargo box and a box capacity of 1,000 lbs.
Terex T45 Super Quiet Generator
Terex introduces the T45 to its line of Super Quiet Generators. The T45 was designed for quiet operation. Unit offers a prime power output of 45 kVA (36 kW) and delivers both single- and three-phase outputs. The T45 outputs three-phase power on the distribution side of the unit and the single-phase convenience receptacles are located on the control panel to allow the operator to run both power sources simultaneously. Three-phase outputs are available in 208, 220, 240, 416, 440 and 480 volts and optional 600 volts. Single-phase outputs of 120, 127, 139, 240, 254 and 277 volts are standard.
Americ EPF-12 Air Mover
Americ's EPF-12 blower features a fully rotational design and low-amp-draw motor. Unit can direct large volumes of air accurately to any given area. Featuring a 1,900-cfm rating, unit weighs 20 lbs. and is constructed of steel.
Epps Model 4325 Pressure Washer
Epps Products introduces the model 4325 compact hot-water pressure washer. Powered by a 6.5-hp Briggs & Stratton Intek engine, unit comes with 13-in. tandem wheels and a sturdy roll cage with center lifting bar. Unit delivers 2,500 psi at 2 gpm.
Grindex Bravo Pump Series
Grindex offers its new slurry pump series, Bravo, designed for very abrasive applications. Slurry and other fluids with high concentrations of sand and stones normally wear out the hydraulic parts of the pump. Grindex has solved the wear problem by producing hydraulic components in the Bravo pumps in Ni-Hard 4, one of the hardest materials available today. The Bravo pumps can deliver between 470 and 2,000 gpm.
Cemen Tech Mobile Tech MT 9x-caliber
The MT 9X-Caliber volumetric mixer has a 9-cu.-yd. capacity and can produce up to 70 cu. yds. of five-sack mix per hour. Features include a variable-speed cement drive, direct-inject admix systems, 510-gal. water capacity, pump maxter auger and power swivel.
Diamond Products Super Premium Plus Core Bits
The fast-cutting Core Bore Super Premium Plus Turbo core bits from Diamond Products feature a ribbed segment design that maintains side clearance throughout the life of the bit. Diamond segments are .400 tall. Units are available in various diameter sizes.
Multiquip DuoScreed
Multiquip's new one-person DuoScreed sports a unique blade profile that is 50 percent lighter than preceding models. Designed for sidewalks, driveways, pathways and decks, unit features an integrated lifting bar that is now part of the control handle. The advanced blade, which reverses in seconds without tools, allows one side to be used for standard form-to-form screeding while the other is utilized for wet screeding. Blades are available in widths up to 20 ft.
VC Marketing 25Qi160 AVP
The newest member of the Vandermolen AVPs (All Vegetation Processors) features a manual pulley clutch. The new design makes the unit more compact and feeding access can now be from either the left or right side. Unit chips up to 4-in. fully dressed branches or limbs, mulches leaves, clippings and general garden waste and is powered by a 16-hp Briggs & Stratton Vanguard engine.
AMH Industrial Grapple Bucket
The AMH industrial grapple bucket is designed for telehandlers. Featuring a bucket capacity from 1.2 to 1.5 cu. yds., unit offers a 72- or 96-in. outside width. Includes female quick coupler plates for most telehandlers and 3,000-psi hydraulic components.
Genie Z-135/70 Boom
Genie's Z-135/70 offers a large working envelope, with a maximum working height of 141 ft., horizontal outreach of 69 ft. 9 in., and up-and-over clearance of 75 ft. 6 in. The Z-135/70 features Genie's exclusive X-Chassis axle configuration (patent pending), which has revolutionaized the mechanism for extending and retracting axles. Each axle pivots from vertical mounting pins, providing easy and reliable machine set-up. The new Jib-eXtend jib extends the platform from a stowed length of 12 ft. to a fully extended length of 20 ft., which provides access to "up, over and in" applications.
Flagro Radiant Heaters
Flagro Industries introduces two models to its radiant heater line. The FRHR-100N radiant heater is natural-gas fired and produces 100,000 btu per hour to heat a 360-degree "line of sight" range. The FRHR-100P is propane fired. Both units have a built-in thermostat to cycle the heater off when the appropriate temperature is reached. No filter or electricity is required.
Jacobsen Z-Fast Cat Plus ES Mower
The new Jacobsen Z-Fast Cat Plus ES mower features PowerLink, a mobile power generator capable of supplying up to 1,000 watts of continuous 120 AC power. Unit also features Transaxles by Hydro-Gear with built-in charge pumps improving handling and providing a smoother, quieter ride. The mower offers a maximum speed of 7.5 mph and cuts up to three acres per hour.
Riveer Cyclonator II
Riveer Co. introduces the Cyclonator II aboveground, closed-loop wash rack. The Cyclonator II is a stainless-steel filtration system for use with Riveer's patented, modular, aboveground wash pad or with an existing sump or trench drain. Features include one-button operation, no-bypass filtration, continuous ozone injection and high-quality components.
Coneqtec/Universal Pickup Broom
The Coneqtec/Universal broom has a low-profile design that improves sweeping efficiency in the forward sweeping mode. Offering controlled down force, unit features reduced bristle side wear. A dual-direction, direct-drive hydraulic motor drives the broom at the appropriate speed and direction. An optional gutter broom, caster wheels, sprinkler system and brush type and configuration are available.
PWCE Snow Removal Equipment
Paul Wever Construction Equipment offers a snowbox, V-plow, wing plow and angle plow that can be easily interchanged. Three-point hitches allow easy hookup to almost any vehicle or tractor. Units can be used independently or in combination. Wing plow attaches in less than two minutes with no major modifications required to attach the CCA wing or snowbox.
Turbo Technologies Watering Units
Turbo Technologies new watering units feature 300- to 1,000-gal. capacities. Skid and trailer units are available. Other features include 5.5-hp Honda engine, 2" x 2" centrifugal pump, bypass, and 100-ft. of 1 1/4-in. discharge hose. Units can be equipped with boom options for dust control applications.
Ditch Witch RT40
The new Ditch Witch RT40 is an upgrade of one of the company's best-selling trenchers ever: the 3700. The four-wheel drive RT40 comes with a quiet, engine emissions-compliant Deutz engine. It's user-friendly operator station features an easy-to-read instrument panel, extra legroom, grab handles for getting on and off the machine and a specially design, friction-controlled throttle. The hydrostatic, modular RT40 is equipped to run multiple attachments, including a backhoe, trencher, saw, plow or combustion trencher/plow.
Bear Cat Model 77413
The new Bear Cat Model 77413 road towable 4.5-in. chipper offers a feed opening measuring 13" x 14.5". Chipper comes standard with a 2-in. ball coupler, safety chains, brake lights, fenders and directional signals. Unit is powered by a 13-hp Honda OHV engine with recoil start.
Kenco Wall Clamp
Designed to lift and handle concrete panels from horizontal to vertical positions in one maneuver, the new Kenco wall clamp can be used in multiples for added capacity. The semi-automatic operation automatically latches to open position after panel is placed.
Classen SA-25 Stand-Aer
Classen presents a completely new concept in aerating with the SA-25 Stand-Aer. With a 24-in.operational turning radius, this hydrostatically tine- and tire-driven aerator offers an operational and transport speed up to 4.7 mph, which translates into 50,000-plus sq. ft. per hour. The tines hydraulically raise and lower up to a 3-inch depth with a hole pattern of 4.06 x 7 inches. Powered by a 13-hp Honda OHV engine, unit easily fits through a 36-in. gate.
Vibromax VM 46 Single-Drum Roller
The VM 46 single-drum roller comes with a smooth or padfoot drum or padfoot drum with blade. Powered by a 60-hp Cummins diesel engine, unit generates more than 22,800 lbs. of centrifugal force. Features include standard traction control system, vibration-isolated operator's platform, maintenance-free articulation joint and tilting engine cover.
Gehl updates the RS Series of Telescopic Handlers
Gehl Co. has made several improvements to its 6,000- and 8,000-lb. "RS Series" rough-terrain telescopic handlers. The new RS Series telescopic handlers have increased lift heights and an updated ROPS/FOPS canopy and cab with an ergonomically designed operator station and pilot-assisted controls. The new RS6 telescopic handler has a longer boom that reaches to 42 ft. and a rated operating capacity to 6,600 lbs. The new RS8 telescopic handler, with a rated capacity of 8,000 lbs., is now available with boom lengths of 42 and 44 ft.
Target G2 Tile Saws from Electrolux
Target recently announced the next generation of their Tilematic and Super Tilematic tile saws. The Tilematic G2 will cut 16 in. diagonally, up from 12 in. previously, while the Super Tilematic G2 will cut 22 in. diagonally, up from 18 in. previously. The Tilematic G2 will now rip cut a 24-in. tile and the Super Tilematic G2 will rip cut a 31-in. tile. The 1 1/2-hp Baldor continuous-duty motor is totally enclosed and fan cooled.
National Attachments Globe Ram Line
National Attachments is the exclusive dealer for all Globe Ram demolition and recycling attachments, including silenced breakers, hydraulic combination cutters/crushers, pulverizers and demolition/sorting grabs optimized for demolition recycling applications.
Water Maze HBG Wastewater Evaporator
Water Maze offers several improvements to its natural-gas-heated HBG wastewater evaporator. The HBG wastewater evaporator, which can be adapted for liquid propane, features a combustion chamber design that is 60 percent larger. Using high-density refractory ceramic, the combustion box requires only 390,000 btu/hour to evaporate up to 30 gph. The unit features a 20-gal. tank capacity and a new double-lid design for easier access to the tank itself.
Hammerhead II
The 1,138-lb. Hammerhead II from Hammerhead Products provides 3,000 ft.-lbs. per blow. Unit can rubblize up to 3,000 sq. ft. per hour and fracture material up to 12 in. thick. The 385-lb. spring-loaded impact rod travels only 19 in. and fires every 1.5 seconds on low-flow or 50 beats per minute on high-flow machines. Unit is designed for carriers with auxiliary pressure from 1,700 to 3,500 psi.
Metabo MFE30 Wall Chaser
Metabo Corp. introduces the MFE30 Wall Chaser for cutting channels, or chases, in masonry for electrical and other utilities. Unit offers 1,400 watts of power with 31 in.-lbs. of torque. Unit is a "dustless" tool with a vacuum port at the top of the handle and is furnished with two vacuum adaptors. The 5-in. diamond blades can cut chase widths from 3/8 to 1 3/16 in., with a depth to 1 3/16 in.
Sellick S Series Rough-Terrain Forklift
Sellick introduces its S Series rough-terrain forklift featuring an operator platform rubber mounted to reduce noise and vibration levels. Visibility through the See-Thru roller mast increases safety. Capacity range is 6,000 to 12,000 lbs. All models are equipped with a Perkins 1000 Tier II emission diesel engine.
Stow Cut-off Saws
The 21-lb. SHS62 and 23-lb. SHS81 gas cut-off saws slice concrete, tile, ceramics, pipe and more. Reversible blade flange handles 20mm and 1-in. blade arbors. The saws operate 12- or 14-in. blades and feature a triple-stage air filtration system. Powered by 4.7- and 6.3-hp, two-cycle, EPA-approved gasoline engines, units offer reversible cutting arm and easy-adjust cam V-belt tensioner and sturdy front roller bar.
IHI 65NX Compact Excavator
The 14,300-lb. 65NX has an 8-ft. 4-in. minimum front swing, allowing for maneuverability in tight conditions. Features include 12-ft. 10-in. digging depth with a 21-ft. 4-in. reach. Powered by a 55-hp Yanmar diesel engine, unit offers 1.7 to 3.3-mph travel speeds, auxiliary hydraulics and a spacious cabin with wrist control-type short joysticks. Maintenance is made simpler with oil pressure measurement port with quick coupler and right-side access to control valves.
ITT Flygt Ready 8S Pump
The Ready 8S submersible trash pump features wear- and corrosion-resistant, stainless-steel and synthetic materials construction. Powered by a 1.1-hp motor, the pump can handle solids up to 1 1/2 in. in size and features a 2-in. discharge. Capacity is 110 gpm with heads up to 36 ft. Plug-in single-phase, 115- and 230-volt models available.
Alpha Lock
The Alpha Lock is a compact, easy-to-use and store, heavy-duty and tamper-proof wheel-locking security device designed to immobilize and prevent the theft of motorized and non-motorized vehicles, trailers, and towable and wheeled equipment.
Case 721D XT Tool Carrier
Case Construction Equipment has added the 721D XT tool carrier to its D Series wheel loader line, which features redesigned linkage, improved visibility, increased material retention and improved stability. The same redesigned enhancements will also apply to current-production Case 521D XT and 621D XT tool carrier wheel loaders. The 721D XT features a 3-cu-yd. capacity and is powered by a 170-net-hp engine.
Ridgid NaviTrack Scout
The Ridge Tool Co. adds NaviTrack Scout to it line of locators. The Scout locator guides operators to the target quickly and easily by maximizing signal strength. Unit eliminates the nulls and false peaks that make locating with conventional locators diffiicult. Features include 3-lb. weight, automatic backlight display, protective screen guard and multi-directional antenna ball.
Electric Eel Dolly
Electric Eel offers a new two-wheel dolly for its Model E 1/2X50 electric drain cleaner. The optional dolly has a fold-down handle for easy storage and transport as well as 10-in. wheels for better maneuverability. The dolly quickly attaches to any Model E machine.
Rockland DZ Dozer Coupler
The DZ Dozer Coupler allows for fast, reliable change of dozer attachments. Designed to reduce attachment changes from hours to seconds, unit offers easy-to-install bracket kits available for existing attachments. Unit enables quick switch to an extra-wide blade or rake and eliminates need for brace groups, permit fees or escort vehicles.
Mi-T-M CA Series Pressure Washers
Mi-T-M Corp. introduces the CA Series of cold-water aluminum pressure washers. Features include 5.5- to 13-hp Honda or Subaru engines, lightweight aluminum frame for resisting rust and corrosion and 3/16-in. aluminum base plates with patent-pending isolator plate to reduce vibrations.
Tanaka TBL-7600 Blower
Tanaka's TBL-7600 backpack blower weighs 20.6 lbs. The four-point anti-vibration system combined with super-thick frame padding provides ultimate back support. Other features include extra large padded straps, heavy-duty high-flow air filters and a breakthrough fan and housing design to maximize output with minimum power requirements.
Nye Drain Notches
Nye has completed across-the-board product design modifications to all its products that will help prevent the spread of West Nile Virus. The company modified all its bucket patterns by adding notches to the bottom of the side plates that will allow water to escape. The 10mm notches are quite small and have no effect on performance or durability.