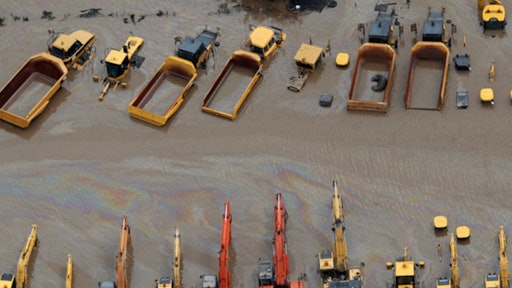 To all of the equipment owners in flood-ravaged portions of the Midwest, please take the time to review the important steps below with your crews to set your organization up for success when recovering construction equipment that has been submerged. 
Acting quickly, with the right procedures and plan of action can make all the difference when recovering construction equipment that has been inundated by flood waters. 
Completely inspect and evaluate the area and the damage to your equipment, and plan the best course of action. DO NOT START ANY ENGINES. 
Disconnect the battery immediately, as electrical shorting may have occurred.
Make a detailed report for insurance reporting purposes. Include pictures and videos, make notes of water marks on machines and buildings, etc.
Remove all external guards, panels and any interior components (i.e. seat, cab mats, insulation, interior panels). Primary electrical components – such as the electronic system's ECM, starter, alternator, sensors, controllers – will need to be evaluated and repaired or replaced depending on the severity of the damage.
Pressure wash the entire machine (where it is) to remove any sand, silt or contamination. DO NOT START AND MOVE THE MACHINE TO THE WASH BAY AS IMMEDIATE DAMAGE CAN OCCUR.
Drain all fluids from the components and housings, taking note of the condition of the fluids being drained. 
Grease the entire machine to purge any sand, silt or water from bushing, bearing and pin locations.
Change all filters, wipe dry all air cleaner housings and intake piping, inspect the exhaust system, clean all screens and refill components with clean oil.
Turn the engine over by hand to make sure there is no fluid in the engine cylinders, drain the engine oil and refill. Diesel fuel can be used to flush and purge engine of moisture if necessary. Test and install new batteries if necessary, as the old batteries have the possibility of containing contaminated water. 
Start the engine and bring it up to operating temperature while evaluating performance. Operate the machine one function at a time and monitor its performance. After the machine has been completely run out and purged, drain and refill all the fluids and change all the filters for a second time to ensure contamination has been removed.
NOTE: Electrical issues may not be apparent soon after a machine is submerged. But as electrical components and connections corrode, they will begin to have intermittent problems.
Make sure to check all the connections and wiring before immediately assuming a component has failed. Disconnecting, cleaning, drying and installing a good dielectric grease in the electrical connections before putting the unit back into service will mitigate a lot of intermittent electrical problems.
Also, make sure to clean and protect any grounds that connect directly to a chassis (frame) component, as these will corrode and cause electrical problems if not addressed.
Jason Ruggles is equipment manager, with Eureka, MO,- based J.M. Marschuetz Construction Co., and a 16-year veteran of equipment operations at construction companies.