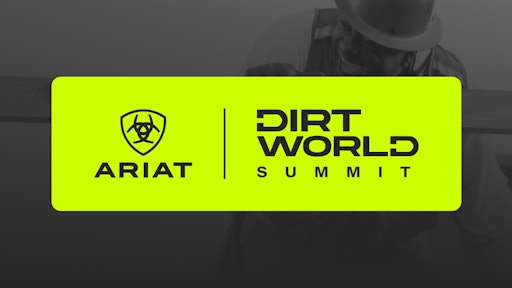 ariat, BuildWitt
Attendees of the inaugural 2023 Ariat Dirt World Summit will be gathering in Houston, Texas, October 25 through October 27. The first-of-its-kind event is designed to bring contractors together to solve workforce challenges like recruitment, development, and retention.
What to Expect
The opening session involves learning how to better lead and influence others from former Navy SEALs and combat veterans Jocko Willink and Jamie Cochran.
The morning session of the Muster will feature Jocko Willink setting the foundation for the day and digging into how combat leadership applies to business and life.
You'll then put the Laws of Combat, Mindsets for Victory, and Extreme Ownership principles to work in a role-play exercise, debrief, and have time for Q&A with the Echelon Front team.
Cochran will end the morning session by covering the barriers of extreme ownership.
The afternoon session is Know Your Mission. Willink will follow with Leadership Strategies and Tactics covering the indirect approach, unified strategic goals, and the silent leader.
The session ends with a Q&A with all the Echelon Front Instructors and closing remarks and a call to action from Willink.
Day 2 includes educational sessions on several topics including:
Leadership
Ways to attract and retain talent
Novel approaches to workforce issues
Onboarding and training
The Planners
BuildWitt hosts the summit, and Ariat is the title sponsor. According to BuildWitt CEO Aaron Witt, the partnership is a natural fit. He's been an Ariat brand fan for years.
"I've worn Ariat for nearly a decade since my second job in construction. I worked in ditches, traveled the world, and hiked for weeks in my Ariat boots. To say I'm a fan of the brand is the understatement of the year," Witt said.
Now in its 30th year, Ariat has a loyal customer following thanks to the company's commitment to designing products that are built to last, including workwear.
This dedication to workers mirrors BuildWitt's mission to make the Dirt World a better place.
"It's about serving. It's about building something that lasts for years. It's about bettering the community, people, and the world," says BuildWitt President Dan Briscoe.
He adds, "Boots are an important part of a worker's identity because the first thing a young person needs to do when they enter the industry is get the right work boots and workwear. Partnering with Ariat will help us give our community access to … work boots and workwear, so they can perform their best."
"We are excited to partner with BuildWitt and support Aaron's vision of making the Dirt World a better place," says Susan Alcala, Ariat's vice president of partnership marketing. "This partnership provides us with an incredible opportunity to celebrate the men and women who work in the construction community, as well as support Aaron in furthering his mission of recruiting and training new skilled workers for the future."
Through this partnership, the two companies hope to share brand recognition and bring their audiences together to help Dirt World workers perform their best in the demanding environments they face day to day.
"We're bringing real solutions for the people problem. They're bringing innovative solutions for workwear. Together, we can accomplish a lot to help the industry," Briscoe said.
Witt concluded, "I've never been interested in partnering with a brand I don't already use and love. Having Ariat believe in our Summit and the Dirt World as much as we do is incredibly humbling and exciting!"
For more information, visit the Ariat Dirt World Summit website.