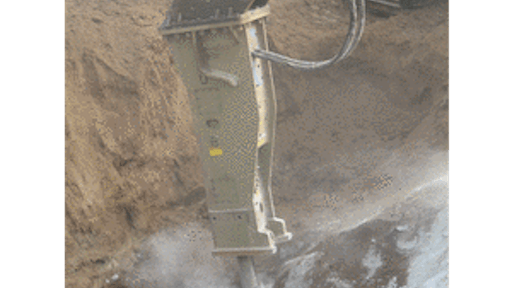 300 Series Breakers
The 300 Series breakers feature a cradle-style bracket, meaning there are no bracket bolts to break.
13 models available from 350- to 10,000-ft.-lb. impact energy ratings
Available for skid steers, mini-excavators, backhoes and excavators
Nitrogen gas-assisted design
Control valves concealed inside of smaller units for added protection
Accumulator located on the side of larger models to protect hydraulic system
Replaceable tool bushing
UB Equipment Corp.
5-ton PowerGrip Bucket
The PowerGrip multi-purpose bucket is available in a 24-in. width and weighing approximately 525 lbs., suited for excavators up to 11,200 lbs.
Can be used as general-purpose excavating bucket, a trenching, grading or clamshell bucket and as a grapple or hydraulic thumb
Can be operated using the excavator's existing auxiliary hydraulic circuit
Features standard OEM lugging, an enclosed rotary actuator hinge design, high-strength, abrasion-resistant steel construction and quick-coupler compatibility
Helac Corp. Attachments Div.
ACW Series Compaction Wheels
The ACW Series compaction wheels feature oversized compaction feet for optimum performance.
Sheepsfoot or padfoot styles available
Fully compatible with compact excavators, skid steers and backhoe-loaders
Quality sealed bearings and heavy-duty construction for a long and trouble-free service life
Arrowhead Rockdrill Co.
AR Series
The Model 70C requires 8 to 16 gpm at 1,400 to 1,900 psi and is designed to break rock and demolish concrete at a rate of 500 to 950 bpm.
Easy start with minimal downpressure allows operation in any position
Steady blow energy for maximum breaking power with every blow
Slip-fit tool bushings for easy removal
Conversion brackets enable switching from loader-backhoes to skid steers in minutes
Bolt-on top-mounting bracket allows easy attachment to excavators using quick couplers
Allied Construction Products, LLC
EDGE Pallet Forks
EDGE Pallet Forks come in sizes ranging from 36 in./3,700 lbs. to 72 in./6,000 lbs.
Standard-duty model features side steps to make getting in and out of the cab easy
Medium-duty model offers a walk-through-style frame
Heavy-duty model designed for tough applications and high-horsepower skid steers
Rotating, Sliding Tine and Side Shift hydraulic-style pallet forks also available
CEAttachments Inc.
EZ Spot Ur Rotating Attachments
The Ez Spot Ur attachments feature a 127° rotating base, allowing poles, boulders and trees to be set or barrels and containers to be easily dumped with complete control from inside the cab.
Over 13 interchangeable tool heads, including a rock and tree handler, pole setter, pot handler and barrel handler
Universal Skid Steer Quick'tach or customized adapter plate available
Ez Spot Ur Inc.
Geith Mechanical MX Coupler
The Mechanical MX Coupler is designed to fit mini-excavators from 4,000 to 12,000 lbs. with pin diameters from 30 to 45mm.
Easy three-step operation
Integrated safety pin serves as a secondary locking mechanism that cannot be lost or thrown away
Custom OEM pin grab mechanism design fits attachments designed for the carrier model
Allows bucket to be reversed and used in a shovel position
Maintains a narrow throat height to maximize digging force
DII Attachments
Grade Blade Attachments
Blades come in six sizes to fit any brand of backhoe-loader or mini-excavator and four sizes for 9-ton excavators and up.
Cover teeth to make a smooth edge bucket
Install in less than 60 seconds with no tools
Squeegee blades have 30° wings to control dirt, etc., leave no windrows and increase bucket capacity 25%
Hall's Grade Blade
Hydraulic Rotary Cutters
Hydraulic rotary cutters are available in six sizes for mounting on excavators ranging from 2 to 55 tons.
Cutting head diameters from 12.7 to 28.2 in. with widths from 22 to 49.4 in.
Gear reduction multiplies torque, providing pick forces ranging from 4,294 to 23,605 lbs.
Excavation, demolition and scaling cutter drums available
Provide precise cutting, low operating noise and low vibrations
Cut material may be reused as fill
Alpine Sales & Rental Corp.
Hydraulic Tilting Grading Buckets
Hydraulic Tilting Grading Buckets are available for machines weighing from 7,000 to 100,000 lbs.
Offered in a variety of capacities and widths from 36 to 72 in.
Tilt 45° side to side
Side plates and wear bars built of HardOx steel
Available for pin-on or quick-coupler interface
Optional bolt-on edges available
Common bucket sizes in stock
M.C. Faulkner & Sons, Inc.
Leveling C-Hook Pipe Lifter
The Leveling C-Hook Pipe Lifter helps place and position concrete pipe up to 8 ft. in length in one operation.
Leveling bail adjusts quickly and easily for varying pipe lengths and the adjustable bail block makes repetitive lifts easy to handle
Stand-up bail makes it easier for the operator to pick up the lifter
Features a replaceable polyurethane lifting saddle, positioning handle and target holder
Available in standard capacities from 1.5 to 15 tons with custom sizes available
The Caldwell Group Inc.
Multilift
The Multilift moves concrete block by simply using a lifting sling, such as the Kenco RigMAX, attached to any type or model of machine with lifting capabilities.
No additional hydraulics needed
Actuator allows for hands-free movement of blocks
Adjustable grips slide independently and can be configured to grab from the inside out
Handles up to 6,000-lb. capacities and will accommodate widths up to 60 in.
Kenco Incorporated
New Generation Orange Peel Grapples
The New Generation orange peel grapples offer an ultra-strong structure with sealed oversized pins and bushings.
High-pressure cylinders with extremely durable guarding
Mechanical stoppers in both the fully opened and fully closed positions
Continuous RT Rotators available with different axial lift capacities and high side-loading capabilities
Various sizes with four or five tines or with an integrated magnet
Can be installed on carriers such as excavators, knuckleboom loaders and materials-handling machines
Rotobec
Pallet Forks
Danuser pallet forks are available in 3,000-, 4,500-, and 6,000-lb. capacities depending upon tine option.
Non-skid step and angled side corners allow for easy and safe access in and out of skid-steer
Heavy-duty brick guard and frame robotically welded
Powder coat finish
Multiple load tie-down locations on frame
10° back angle maximizes pallet fork breakout force
Danuser
Pallet Forks and Frame Attachment
These ITA Class II (other classes are available) skid-steer/compact tractor flat forks can be used to unload trucks on the jobsite.
Able to go places traditional forklifts aren't available
Features handy side step plates
3,950-lb. estimated lift capacity at 24 in.
CJJ, Inc.
Pipe Grap PG 45
The Pipe Grap 45 is a pipe grappler that can handle oil and gas pipes from 12 to 55 in.
Can be used with base machines from 44,000 to 54,000 lbs.
Changeable clamps to work with bigger or smaller pipe
Adjustable grappling force
Manually adjustable height support
Polyurethane wear parts in the clamps and height supports
360

° hydraulic rotation
ALLU Group
PWCE Extendable Dipper
The Extendable Dipper is designed to increase the reach of full-size and compact excavators, as well as backhoe-loaders.
Install easily for more versatility
Up to 30% more reach
Auxiliary hydraulics available
Transports with the machine
Able to lift heavy loads
Paul Wever Construction Equipment Co., Inc.
Quick Couplers
Ajusta-Buckets quick couplers include many safety-minded features including lift hooks and safety front hooks.
Compatible with standard buckets designed using OEM specifications
Allow most buckets to be attached in the reverse position for shovel-style digging
"Snap-lock" latching mechanism available in sizes for compact and large excavators and tractor-loader-backhoes
Hydraulic-powered latches available for larger class excavators
Lighter-duty, lower-cost "Snappy" available for compact excavators and tractor-loader-backhoes
Ajusta-Buckets / York-Seaway
REMU Model L75 Screening Bucket
The REMU Model L75 screening buckets work well in wet conditions and are well suited for use in materials with high clay content.
For use on skid-steer loaders and compact excavators with operating weights from 3,000 to 106,000 lbs.
Rotating blades move material 2 in. vertically per impact
Can separate fine from coarse material without crushing bigger particles into the separated material
Particle sizes start at under 5/8 in.
Dual shafts increase bearing life
MDS Group
SBC 410 Hydraulic Breaker
The 453-lb. SBC 410 is designed for use on skid steers, backhoe-loaders and excavators in the 4,400- to 12,100-lb. weight class.
Delivers an impact rate of up to 1,200 bpm
Accepts a 17.2-gpm maximum hydraulic flow at a working pressure of 2,175 psi
Solid one-piece body eliminates the need for side bolts
Cast-iron body allows all integral parts to be housed in the same casting
Long-stroke piston design ensures optimum energy transfer to the tip of the tool
Atlas Copco Construction Equipment LLC
Single Pointed Ripper Bucket
The Single Pointed Ripper bucket allows the excavator operator to rip through rock, coral or frozen ground, pry stumps, or dig V trenches.
Saves digging time, backfill time and backfill material
Powerful like a single pointed ripper, but allows operator to scoop
Supplied with one powerful MTG KingMet tooth
Available for any excavator above 6,000 lbs.
Leading Edge Attachments
Skid Steer Pallet Fork
The Skid Steer Pallet Forks fit most skid steers with a two-pin drop-style quick attach.
3-ft. high by 4-ft. wide by 4-ft. long precision-welded frame has cab access steps on both right and left sides
Includes a pair of high-quality 4-ft. long by 4-in. wide by 1.5-in. high forks
Werk-Brau Co., Inc.
ST Bucket Thumb
The ST model rigid and hydraulic bucket thumb is available for mini-excavators as small as 2,800 lbs.
Features a curved, multi-serrated profile
Provides the grasping and handling ability to take on rock wall building, land clearing projects and material removal or placement
Configurations available with or without cylinders
Amulet
TMB Series Trommel Buckets
The TMB Series of trommel buckets come in four sizes for excavators weighing from 6 to 40 tons.
Typical application includes screening C&D debris out of soil and sand
Compact, lightweight and can operate with breaker, shear, or thumb hydraulics
In-body control valves allow drum rotation speed to be fine tuned for smooth operation in a variety of applications
Okada America
Trench-Beak
The Trench-Beak is a fork and jaw grapple system designed for removal of narrow concrete slabs in trench work.
95-lb. weight allows mounting on small compact excavators
17-in. jaw opening
Lifts and removes concrete strips without requiring a sledge hammer
No shoveling and minimal cleanup required
Daniel Mfg
Vacuum Lifters
Vacuworx vacuum lifters can handle material such as coated steel pipe, plastic pipe, concrete pipe, flat steel plate and concrete slabs.
Can be attached to a number of carriers, such as excavators, wheel or track-type loaders, cranes, pipelayers and forklifts
Models available from 3- up to 20-tonne capacity and more
Vacuworx International