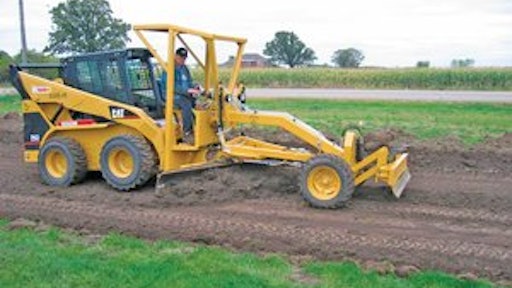 Concrete Claw
Available in 24 in. working width
Excellent for removing concrete on sidewalks, driveways or any construction site
High strength cast replacement points
End plates and tooth shanks made with T1 steel
1 in. by 8 in. wear resistant Pacal steel tapered cutting edge
FFC Attachments, Inc.
CP Breaker Line
The CP line of hydraulic breaker attachments features 12 models for carriers from 1.3 to 75 metric tons.
Includes three heavy-duty units from 4,850 to 9,259 lbs., four medium breakers from 1,213 to 3,527 lbs. and five light models from 209 to 827 lbs.
Enclosed box design and elastic damping elements isolate noise from the percussion mechanism and reduce harmful vibrations
Heavy and medium models come standard with the CP-Lube automatic lubrication system
Chicago Pneumatic Tool Co.
Curbcat
The Curbcat concrete slipform curb and gutter attachment from Creative Equipment Design provides automatic control of grade and steering using sensors and stringline.
Hydraulic vibrators and cylinders powered by skid-steer hydraulic system
Quick, easy hookup and disconnect
Molds changeable in minutes
Easily transported via pickup or trailer
Creative Equipment Design
Drop Hammer
The 1, 950-lb. drop hammer attachment can be used with skid-steer loaders, compact track loaders and all-wheel-steer loaders to break up concrete and asphalt slabs up to 18 in. deep.
1,140-lb. weight is lifted by a chain and drive motor, then freefalls to break material
Operates at a rate of up to 20 bpm
Cushioned safety valve enables operator to stop hammer in mid-stroke and slowly lower it to a resting position
Attaches to carrier via the Bob-Tach mounting system
Bobcat Co. - Doosan Infracore
EDGE Concrete Slab Lifter Bucket
The EDGE concrete slab lifter bucket for skid steers is designed for removing concrete on sidewalks, driveways and any construction site. The slab lifter has three heavy-duty teeth with 1 1/2-in. shanks made of T-1 steel and replaceable points with rubberized flex pins.
CEAttachments Inc.
Exca-Beak
The Exca-Beak attachment is a grapple system for compact excavators and backhoe-loaders.
Allows the full operating range of your bucket
Available in all popular quick-tatch styles and can be supplied in pin-on configuration
Suitable for hardscaping, demolition, feeding chippers or tub grinders, concrete tear out, etc.
Daniel Mfg
Hammer Model 1350
This pneumatic-tired, mobile hydraulic hammer breaks, cuts and scores concrete, rock and asphalt into sizes suitable for excavation, recovery, or cracking and seating.
Operates on and off paved surfaces
Hydraulically controlled creeper gear provides working speeds up to 63 fpm
Adjustable impact up to 13,000 ft.-lbs.
80-hp John Deere diesel engine
Synchromesh transmission allows for travel speeds up to 20 mph
Arrow-Master Inc.
Mini-Might Patrol
The Mini-Might Patrol will turn a skid steer into a full-blown grader.
Will attach and detach in less than five minutes following carrier modifications
No extra motors or pumps required
Operator sits outside of skid steer for greater visibility
Equipped with certified ROPS and safety shutdown system
Weighs roughly 4,000 lbs.
Standard 8-ft. moldboard with 10-ft. option
Laser and stringline system capable
Equipment Resources, Inc.
Side Grader
The Komatsu-approved Side Grader excavator attachment is designed to substantially reduce sidewalk prep costs, while increasing productivity through reduced concrete overruns and easy maneuverability around utilities. It utilizes Topcon technology to produce a finished grade within 3/16 in., enabling concrete forms to be set directly on. The depth of the grade is guided by wheels rolling along the top of the curb. A Sure Grip Controls multi-function joystick ensures ease of use. Since the attachment works from the road, it can be used even in wet weather. The unit averages up to 2,000 ft. per day, and can be folded up for easy transport from job to job.
Sidewalk Grading Systems, Inc.
Skid Steer Slab Crab
The Kenco Slab Crab for skid steers can be used to remove sidewalk, driveways and pavement. The Slab Crab will not damage the sub-base and can accommodate up to 8-in.-thick slabs. Custom bucket openings are available. The Slab Crab is also available for backhoes, minis and excavators.
The Slab Crab for skid steers can be used to remove sidewalk, driveways and pavement.
Teeth slide under the slab to securely lift it up and load it
Will not damage the sub-base
Accommodates up to to 8-in.-thick slabs
Custom bucket openings available
Models available for skid steers, backhoes, minis and excavators
Kenco Incorporated