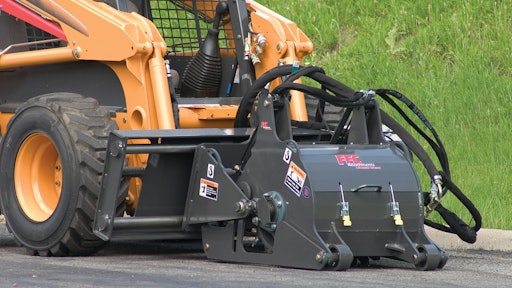 Attachment purchases seem simple…until your attachment doesn't perform as you expect. You invest a lot of money in equipment to get the job done, however an incorrect attachment purchase can waste your money. In today's economy, every ounce of productivity squeezed from your equipment provides more flexibility to profitably run your business. If attachment purchasers make their choices solely on price, critical issues that define the true attachment value might be ignored. Common poor choices include buying attachments that are too small or too big, too low quality for your application, and/or not optimally compatible to your machine and application. Knowing the right facts and questions to ask can make the process painless.
"A lot of buyers make the mistake of trying to gain a certain productivity level without proper consideration of machine and attachment compatibility," says Jamie Adams, Product Manager for JRB Attachments, a Paladin Construction Group brand. "Most operators are smart and know what their machine can handle, but even the most experienced operators run into trouble when switching between multiple applications and attachments on a regular basis. It's important to know your application and machine and then discuss it with a dealer you trust to ensure your safety and achieve the best productivity for your money."
Dealers Often Know Best
Some attachment purchasers prefer to buy online or through low-cost, low-service avenues. While they often get burned due to a lack of serviceability and the low-quality of these attachments, the biggest mistake they make is not taking advantage of the application knowledge of a qualified dealer.
Dealers know what will work on your equipment because they talk with customers like you every day and often work directly with multiple manufacturers. And don't forget about the inevitable…like all equipment, attachments sometimes require service. Because every hour that your attachment isn't working for you counts, dealers that have strong service capabilities will move your projects along faster. If you go the low-cost route, you will often lose more money repairing a low-quality attachment than you saved on the purchase price. Consider using a reputable manufacturer and dealer in your purchasing decision for the lowest overall operating cost.
Lighter Is Not Always Better
Obviously, if you put more weight or stress on a machine than it's designed to handle it could break. Unfortunately there are still situations where operators break attachments because they put too small of an attachment on their larger machines.
"One of the problems that we see among operators is under-sizing an attachment for a host machine," says Jim Koch, Marketing Consultant for Paladin Construction Group. "Universal mounts can be deceiving because they portray a "one size fits all" mentality to operators. They save a little money by going with the smaller attachment. Then a different operator takes over and tries to run the host machine at its full capability [which the attachment is not designed to handle] and the attachment breaks. In other cases, the machine's hydraulic system is too powerful and can damage the attachments because it works them too hard."
Before You Walk Through The Doors
Make your attachment purchase easier by knowing these simple things beforehand:
Application: Know your material density and/or job requirements. If possible, bring a small sample to the dealership. It's also important to know how you will be using the attachment. For example, do you need to work at specific heights or angles?
Cycle Time: Know the required speed to get the task done on time and the estimated amount of travel needed to get around the job site with the attachment.
General Machine Specs: Know the equipment model numbers, tip load, lift/weight capacities and any other basic information for all machines the attachment will be working with. In addition, know the non-standard features on each machine (e.g., changes to hydraulics, tires, engine, etc.).
Hydraulic Capabilities: If your attachment requires hydraulics, make sure you know your machine's hydraulic flow (gpm) and pressure (psi) output capabilities. In addition, make sure you understand your hydraulic plumbing, the number of outlets and its function capabilities. Not all machines have a 3rd or 4th hydraulic function capability and yet a lot of attachments require this.
Mounting Ability: Dealers may assume you have a universal coupler, especially for skid steers and compact wheel loaders. If you have a quick coupler, know the brand and model, and bring the serial number of the coupler if available. When possible, bring a photo.
Beware Of Manufacturer Shortcomings
Quality and reputation are always important. You know that…but people often don't dig deep enough or ask the right questions about the brand being purchased. Sometimes thinking ahead about what you might need in the future can save a lot of headache. Some questions to ask your dealer include:
Have you seen this brand of attachment succeed or fail in other customer applications? If so, what applications?
What repair capability do you have on this attachment and do you stock all replacement parts? If you don't carry the parts, how quickly can you get them?
Does the manufacturer of this attachment specialize in this application or is this just something they manufacture or merely buy to complete their line? Is this attachment and/or application one where they have a proven reputation for quality?
What would you estimate is the overall cost of ownership of this attachment?
Find an attachment manufacturer that has a proven history for quality in your application. Once you find a reputable manufacturer, you will have the confidence in the quality of its attachments when making future purchasing decisions. A broad product line is also important. The more a manufacturer makes and specializes in, the better chance you have of finding a lifetime attachment brand partner for all of your attachment needs.
It's Getting Easier
Many manufacturers and dealers compile guides that are sorted by brand, model or machine size, and/or attachment, so you can easily match the proper machine and attachments. Dealers are still the best source for help because they know other specialty information. For example, it's important when buying two or more attachments that will work together (e.g., thumbs and quick couplers) to buy them at the same time so compatibility isn't an issue. With the many brands and coupler systems available, finding the perfect match is easier this way. Remember…whether you're buying forks, buckets or any other type of attachment make sure they are designed for your specific industry or application.
"Don't be afraid to ask for attachments that work in outlandish applications", says Adams. "Manufacturers and dealers are set up and very willing to modify and create new designs that will work for you."
Be sure to talk with your dealer about the best way to accomplish a job. Not all attachments are ideal for all equipment types.
"Different attachments simply operate better with specific machines," says Koch. "Snow blowers, trenchers and sweepers generally work better with machines that have hydrostatic transmissions, like skid steers, because the machine speed and attachment speed run independently of each other."
When in doubt, using the rental avenue is a good way to decide the best attachment option for your business. Renting first can help you decide the ideal fit for your application.
Using the correct attachments wisely and effectively for your particular application is the first step toward completing your job safely, on-time and on-budget.