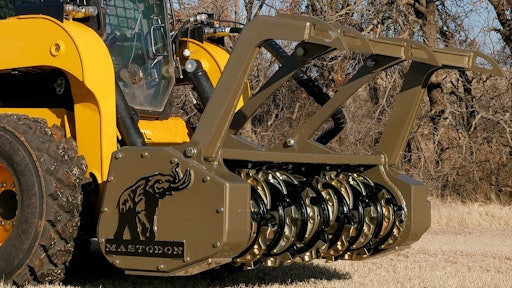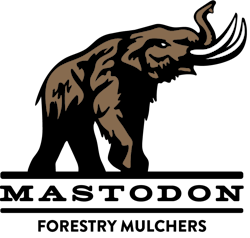 The Mastodon Model M60-S and M60-C forestry mulcher attachments have a 60-in. cut width and are powered by a 160cc variable piston hydraulic motor controlled by E-TECH Smartdrive. This ECU-controlled power management system adapts and controls the displacement of the motor to produce instant torque and optimal mulching performance. The attachments can be tuned to any machine in seconds using Bluetooth and a simple smartphone app or with the in-cab monitor.
The head on the M60-S produces up 780 ft.-lbs. of tree shredding torque with a maximum rotor speed of 2,500 rpm. The M60-C has a two-mode cutting chamber that offers fingertip control of the size of mulch produced and the degree of broadcasting desired. The hydraulically controlled dual-mode cutting chamber adjusts to control debris discharge and allow easy transitions from R.O.W to residential applications.
All Mastodon mulchers feature a direct drivetrain that puts all available power to the rotor, providing instant torque and delivering enhanced mulching performance. With the unique feed control cutting technology, each tooth acts as an independent feed control system that controls the feed rate and reduces stalling of the rotor. The cutting system is available with high-production carbide for high-speed mulching or hammer carbide for enhanced durability in rocky conditions. 
Request More Information
Fill out the form below to request more information about
Mastodon Model M60-S and M60-C Forestry Mulcher Attachments