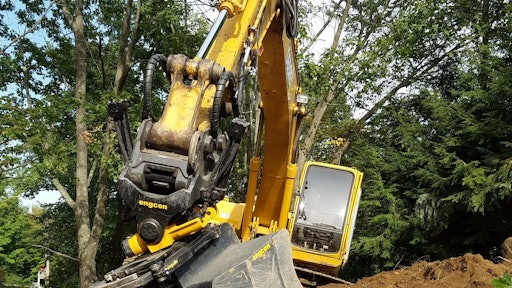 "People actually stop and watch me use my tiltrotator at a construction site," says Tom Gardocki, co-owner of Next Era Excavation in Manchester, NH. "It's pretty unusual for an excavator operator to gather an audience, but that's what happens. It's a head-turner for sure."
Gardocki is used to people watching him while he works - just not at his jobsites. Since 2010, Gardocki has been demonstrating his excavator dexterity on YouTube, Instagram and Facebook as The Dirt Ninja. Many readers will be familiar with his Beer Bottle Excavator Trick video, which has been viewed 1.7 million times and has turned Gardocki into something of a celebrity. His recent engcon Tiltrotator Informative Walk Around video has been viewed over 36,000 times and serves as an introduction to tiltrotator, Q-Safe quick coupler and EC-Oil automatic oil connection devices.
The tiltrotator is a hydraulic attachment that allows an excavator bucket to be rotated 360° and tilt 45° to each side. Although tiltrotators have been used on jobsites in Europe for more than 30 years, they are still relatively new in North America.
Gardocki bought his tiltrotator from engcon, a Swedish firm which opened a North American sales and distribution office in Connecticut in 2017. He took delivery of the attachment in July 2017, and after four months of use, he calculates that the system saves one-third on his machine time, eliminates one laborer on every project and on some jobs saves 50% on materials.
"The flexibility of the tiltrotator allows me to save on labor, because I no longer need a [worker] with a hand tool shoveling around, say, a perimeter drain. I can place the stone exactly where I want it," he states. "And because of that, especially on backfill jobs, there is no waste of material. So that's two ways in which the tiltrotator saves me money."
Specialized Excavator Couplers Save Time and Boost ROI
A Safe, Efficient Combination
The tiltrotator can be connected to engcon's Q-Safe quick coupler and combined with the EC-Oil, a hydraulic system that allows automatic connection of hydraulic tools and accessories from the cab. This enables quick changes from the tiltrotator to a digging bucket to a hydraulic grapple, all from the operator seat.
"That's what I do in under 20 seconds. Literally. I've timed it. Just think how much time that saves me in a day," Gardocki says. "And let's face it, hooking up those hoses isn't easy; they just fight you. With EC-Oil, I avoid that hassle."
The Q-Safe's design also eliminates the possibility of incorrect excavator tool connection. The operator cannot lift or otherwise move the attachment if it is not fastened correctly.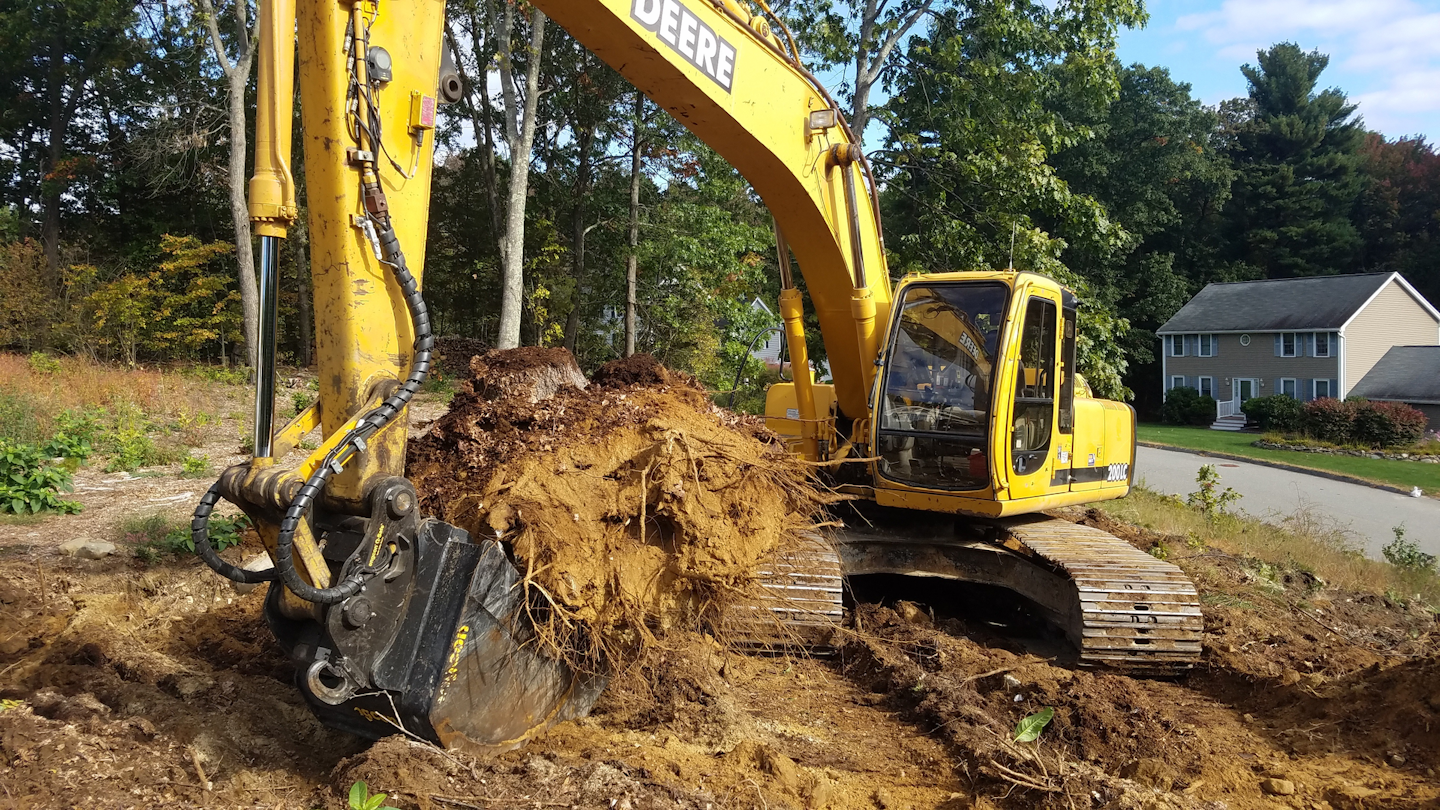 In addition to the tiltrotator, Gardocki purchased engcon digging and grading buckets and an SK sorting grapple.Q-Safe with EC-Oil can be installed on both the machine coupler and the coupler below the tiltrotator. That means an operator can remove the tiltrotator, attach the bucket or other tool directly on the machine's quick coupler, or keep the tiltrotator mounted and attach another tool, such as a grapple, underneath the tiltrotator.
"In certain situations, like stump-pulling or moving boulders, I will remove the tiltrotator from the machine and hook an attachment directly to the machine. Having the Q-Safe coupler with EC-Oil makes this process very easy and quick," says Gardocki.
The system can be attached to any excavator between 1.5 and 33 metric tons. Gardocki has used it on his 1999 John Deere 200LC 20-metric-ton excavator. 
The more he's used the tiltrotator, the more efficiencies Gardocki has discovered. "I've begun to appreciate that it's going to save me on undercarriage wear. Because the tiltrotator bucket can spin 360°, I reposition the machine less frequently. I don't have to drive to the other side of a pile to dig into it," he points out. "Undercarriage work is expensive, and I have realized that I won't have to do it as often. That's a fourth manner in which it saves me money."
Investment Brings Cost Savings
Next Era Excavation has also invested in the Trimble Earthworks 2D grade control platform for use on its John Deere excavator. The 2D machine control system allows Gardocki to excavate to a precise depth, without the need to leave the cab to check with a grade rod or have a second person checking hole depth. The engcon system is fully compatible with the Trimble system – a key requirement prior to the attachment's purchase.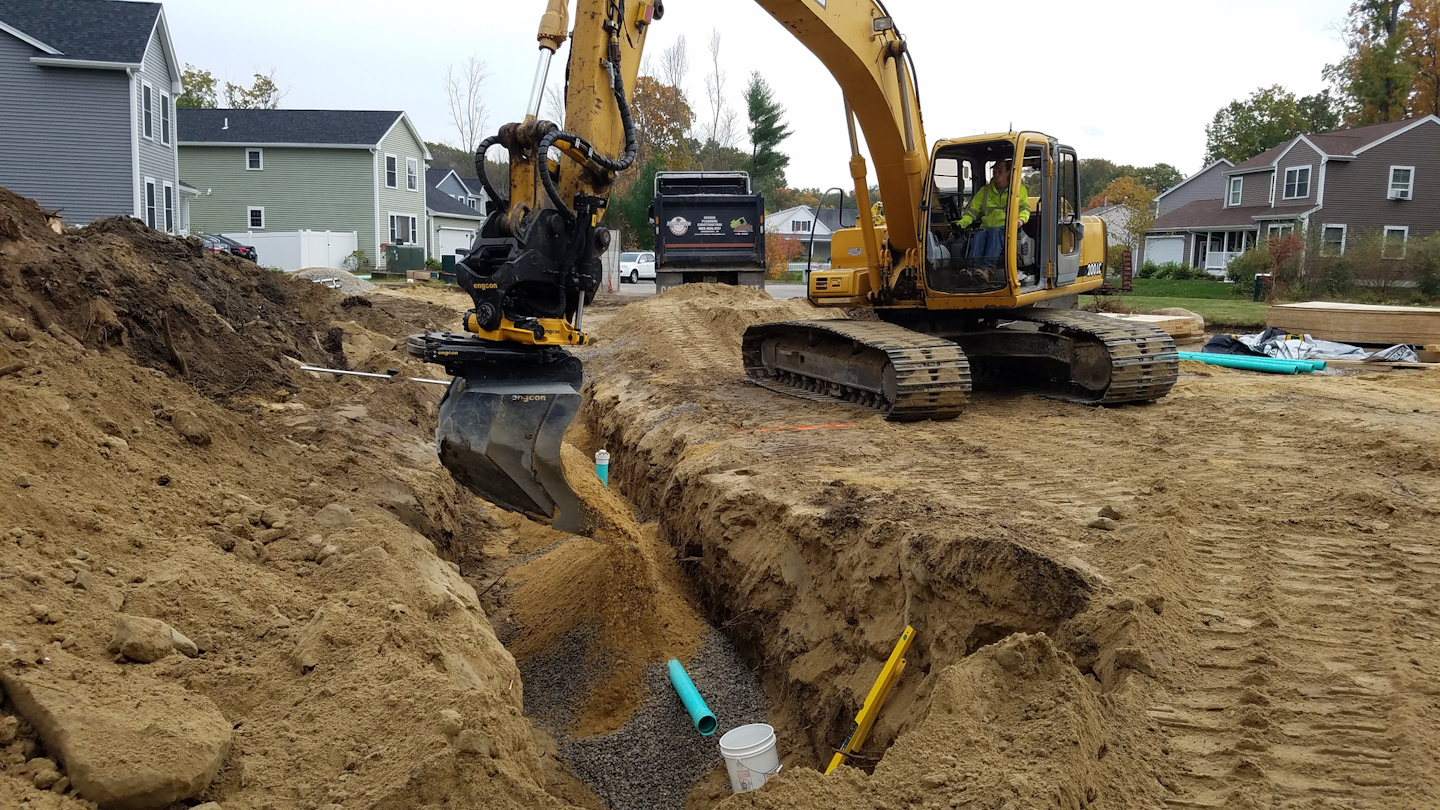 The tiltrotator allows for precise placement of material with minimal waste, meaning reduced labor and material costs.Trimble Introduces the Next Generation of Grade Control for Excavators and Dozers
"People tease me about all my toys, but the thing is, these devices and technology have made me extraordinarily efficient and productive," says Gardocki. "The investment in the engcon system, for example, will pay back in 1,500 to 2,000 hours of use." He also purchased digging and grading buckets and an SK sorting grapple from engcon.
With good help becoming harder and harder to find, Next Era decided to make a big investment in machine attachments and technology. "Anything that saves me labor, time, materials and wear and tear on my equipment is a great investment in my book," says Gardocki.