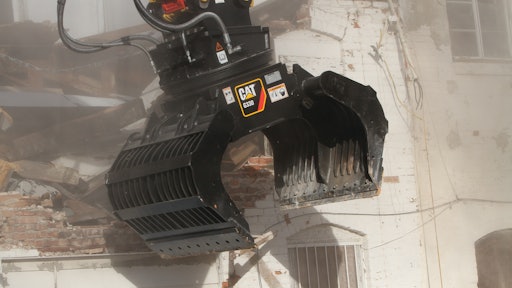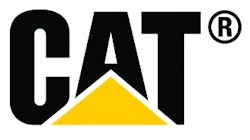 Cat's Demolition & Sorting Grapples  include five models designed to fit a broad range of Cat hydraulic crawler and wheel-type excavators with operating weights from 22,000 to 99,200 lbs. Designed for the most rigorous applications, the grapples feature reinforced jaws and high-wear cutting edges made of AR500 steel.
360-degree rotation
Synchronized jaws enhance grapple control allowing repeatable action
High clamping forces
Overbite stops enhance edge-to-edge contact
High-torque rotation motor
Models: G310B, G315B, G320B, G325B and G330
Jaw openings: 71 to 90 in.
G310B:
Grapple weight: 2,266 lbs.
Capacity: 0.49 cu. yd.
Cycle time: 3.2 seconds
Carrier weight: 11 to 17.6 tons
G315B:
Grapple weight: 3,080 lbs.
Capacity: 0.72 cu. yd.
Cycle time: 3.3 seconds
Carrier weight: 16.5 to 24.3 tons
G320B:
Grapple weight: 4,125 lbs.
Capacity: 0.98 cu. yd.
Cycle time: 3.5 seconds
Carrier weight: 22 to 32 tons
G325B:
Grapple weight: 4,664 lbs.
Capacity: 1.11 cu. yd.
Cycle time: 3.5 seconds
Carrier weight: 27.5 to 42 tons
G330:
Grapple weight: 5,764 lbs.
Capacity: 1.31 cu. yd.
Cycle time: 3.3 seconds
Carrier weight: 33 to 49.5 tons
Request More Information
Fill out the form below to request more information about
Demolition & Sorting Grapples