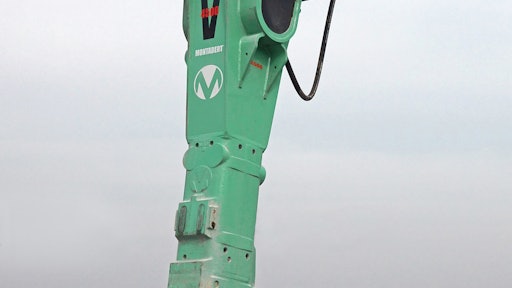 While operators can certainly influence hydraulic breaker life, manufacturers have added or, in some cases, taken away features to increase longevity and efficiency and reduce repair costs.
Montabert's automatic speed variation system on its heavy range breakers (shown at right) adjusts impact energy and striking rate to match material hardness, delivering high energy on hard ground and high frequency on soft ground. "If you are working in softer material like concrete, the breaker will run fast. However, for breaking hard material like large boulders of granite, the breaker will use its full energy," says Stephane Giroudon. "Our system is automatic, so it is easy to use, optimizes production and reduces wear and tear of the breaker."
CEAttachments has eliminated the diaphragm in its Edge breakers. "There is less maintenance and one less part to wear out," says Ron Peters. The company's newest breakers also feature a monoblock design, eliminating through-bolts that require constant torquing or replacement.
Arrowhead Rockdrill has simplified the design of its breakers by also removing the through-bolts. "When we look at the overall number of components, we've reduced them by an appreciable amount," says Rob Sherwin. "It's a case of less that can go wrong."
To reduce the chances of dry firing, the company's R and S Range breakers are gas fired. "This design minimizes dry firing because you have to apply downforce to the tool to actually make it fire," Sherwin explains. "It gives an operator better control."
Atlas Copco also incorporates features to eliminate dry firing, or minimize its effects. "AutoStart mode on our Solid-Body breakers allows the breakers to blank fire, but at half their power," says Matt Franzel. "This minimizes the impact of dry firing and is helpful when you can't really see the material, or if the oversize is too small to push the tool steel up against it effectively."
In the company's Pro Line of Heavy-Body and Medium-Body breakers, StartSelect valves allow operators to choose between AutoStart and AutoStop modes. "AutoStop prevents the piston from firing unless the operator applies pressure on the tool steel," says Franzel. "Imagine the tool steel breaking through a chunk of oversized material. The instant it happens, there is no more pressure on the tool steel, and the AutoStop mode will prevent the piston from firing again."
Another feature Atlas Copco offers is AutoControl, available in medium and heavy models. This feature automatically adjusts how hard the breaker hits based on the density of the material being broken. "By delivering the correct amount of percussive force for the particular job, the breaker does not need to run at full force at all times. This greatly reduces wear and tear on the breaker and lowers operating costs," says Franzel.
The VibroSilenced Plus system, also available in heavy- and medium-range breakers, isolates the percussion mechanism and breaker box with polyurethane damping and guiding elements. In addition, it seals all breaker openings to significantly reduce noise and vibration levels. The EnergyRecovery system automatically uses the piston's recoil energy to power the next blow, which helps reduce vibrations and minimizes the hydraulic power demand from the carrier.
Special features of breakers from Allied Construction Products include Idle Blow Protector to safeguard against blank firing; Soft Blow Sensors to reduce the power and frequency of the breaker in softer rock; safety valves to protect the breaker from damage due to excessive hydraulic input; and the VIDAT System to extend operating life, reduce operating costs and minimize downtime related to vibration. The company's compact breakers also have an unbreakable trapezoidal demolition tool that is three times the diameter of a conventional demolition tool.