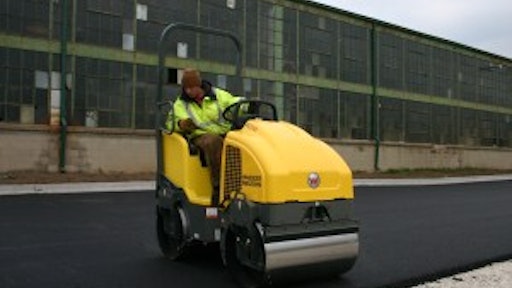 By Allan Heydorn & Kimberly Johnston
"Every manufacturer out there has become very concerned about the comfort of riding that machine all day long," says John Hood, Bomag Americas' sales manager for paving and milling products. "Contractors have become more concerned about their employees and about the comfort of those employees. No one wants a guy with a stiff neck or a sore back, so owners are now seeking input from the operators. And if the operator rides it for four hours and says he doesn't like it the contractor isn't going to buy it."
But Hood says comfort, even on a road roller, is also a productivity issue. "If an operator is comfortable he's more productive."
Hood adds that comfort and ergonomics are also important to help attract workers into the industry. "No one grows up saying 'I want to be on a road crew.' Older crew members are willing to accept some inconvenience and discomfort because that's what they're used to, but younger people are really driving this comfort push."
Bob Marcum, Volvo Construction Equipment product specialist for road machinery, adds other safety improvements include seatbelts, roll-over protection, backup alarms, and an emergency stop switch that many manufacturers now offer. He says controls are much easier to use and are positioned so they are easier to reach than they were years ago. Hood says a good example is the new rollers that are equipped with joystick or joystick options. "Ergonomics play heavily into that but manufacturers are also offering them because the younger generations grew up playing Nintendo," Hood says.
"If you can make it comfortable it's a safer design," says Frank Wenzel, vice president of engineering for Stone Construction Equipment, and the last 25 years have seen tremendous innovation in both areas. He says that on plates, for example, the increase in compaction forces as well as the variety of vibration frequencies has resulted in a need for improvements in dampening handles to isolate the operators.
"It is a safety factor," he says. "With vibration dampening handles there are fewer injuries on the job and there's greater productivity because a person can operate the equipment longer."
Visibility. Marcum says visibility has become increasingly important and manufacturers have responded. "It's a key safety factor," he says. "Where are other members of the crew?" He says Volvo has responded by lowering the engine in the frame and reducing the hood line so it doesn't intrude into the line of vision of the operator. He says a number of manufacturers have also moved the posts that support the roll-over protection structure so they don't obstruct the operator's vision to the side of the machine.
Dave Schulenberg, Wacker Neuson product manager, says manufacturers have improved visibility for the operator largely as a result of improvements in plastics. "For example we can now offer unique hood shapes because we use a plastic or fiberglass hood. With flexibility and shape you can give the operator a much better line of site down to the drum or plate edges."
Hood adds that improved visibility on commercial rollers has made operators and crews safer and has improved production and job quality. "You have to have forward and rear visibility because you're always working in tight areas and you have to be able to see the edge of both drums. That's something all commercial rollers can now offer."
Isolation Technology. Improvements in rubber and elastomer technology used in rubber shock mounts have resulted in reduced vibration to the operator. "You can hardly feel the vibration on our new machines compared to the older models," Schulenberg says. "That results in improved productivity because it reduces operator fatigue. The operator can spend a lot more time on a machine on a day because he's a lot more comfortable."
Noise Reduction. Related to ergonomics are reduced sound levels on just about all machinery including plate compactors. "These rollers and plates are a lot quieter than they used to be and that improves operator and crew comfort," Schulenberg says. "Everyone always thinks of how the noise affects the operator but our research shows that the noise of a roller, for example, is just as important to the guys who are raking, luting and shoveling and even the paver operator. The guys on the crew appreciate the quieter rollers and plates as well because they're working around that machine all day."
Maintenance. Largely as a result of improvements in power systems and components, service intervals on machines have been extended dramatically over the years. "A number of the rollers in the industry now can be totally serviced from the ground, so you don't have to take the risk of climbing up and falling off," Marcum says.
"All this has worked its way to the commercial rollers," Marcum says. "We have a very extensive line and I can take you from our 1.4 ton to 14 ton roller and I can teach you about every one of my products because the engineering philosophy and functionality of design carries all the way through. If it benefits the bigger highway paving contractor it also benefits the smallest commercial paver."
Read more about the "Innovation in Compaction" over the last 25 years in Pavement's August/September issue.
Companies in this article