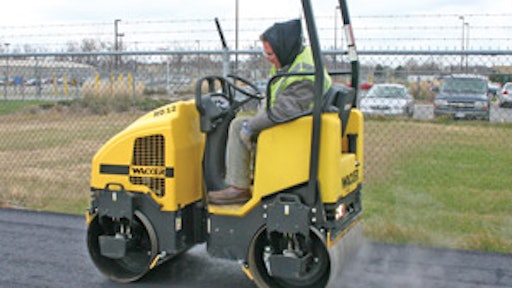 Wacker offers a new generation of ride-on asphalt rollers to the industry. The RD 12-90, RD12A-90 and the RD 16-90 offer various enhacements to improve performance and operator comfort.
RD 12 series
Modeled after the RD 11, the RD 12 rollers offer a number of new features suggested by asphalt contractors. It starts with the elimination of overhang on the back of the machine. This was achieved by a redesigned frame and operator's platform and the use of a pressurized water system.
This new design provides excellent visibility for the operator and allows for the roller to get right to the edge of the asphalt for a complete and smooth finish.
These versatile rollers offer improved performance with an increase in compaction force of 15 percent. The exciter frequency has been increased resulting in faster travel speeds which allows for more efficient and smoother finishes.
The RD 12 rollers feature dual-drum drive and articulated steering for extremely accurate control. The hydrostatic drive with infinitely variable forward and reverse operation and even accelerations and stops guarantees a smooth asphalt finish. Front drum vibration with static rear drum provide for an excellent asphalt finish.
Also contributing to the excellent finish is a new pressurized water system. The advantage to this system is that it allows for a much more efficient and consistent water flow. The water pump timer is adjustable to eight positions which allows the operator to better control the water flow, based on the asphalt conditions. Because this system is more efficient, the overall size of the water tank could be reduced, but the running time per tank of water has been increased.
This redesign also contributes to improved operator comfort including significantly reduced whole body vibration and quieter operation. Contractors will appreciate the more spacious operator platform and sloped hood for excellent visibility. The roller continues to feature the user-friendly control panel and right hand forward and reverse lever with integrated vibration control for easy operation.
Wacker's new one-ton class RD 12 ride-on asphalt roller series is offered with two engine options. The RD 12-90 comes with a 20.5-hp Wacker engine and comes with a complete two-year bumper to bumper warranty.
The RD 12A-90 is equipped with an 18-hp Honda model. Both units have an operating weight of 2,490 pounds, 35.4-inch drum width and centrifugal force of 3,400 pounds.
The RD 12 series is suited for compaction of level sublayers and finish layers on road repairs, driveways, parking lots and any asphalt surface.
RD 16-90 asphalt roller
Also new to Wacker's asphalt roller line is the larger RD 16-90. This new 1.5-ton diesel-powered unit offers the same new features as the RD 12 series including the overall redesign to eliminate overhang, increased compaction performance, pressurized water system and ergonomic enhancements.
The CE-compliant RD 16 also offers additional features to enhance performance and operator comfort. The centrifugal force of the RD 16 has been increased 30-percent over previous models and offers thicker drums for additional weight, plus dual drum vibration for outstanding overall performance and a quality asphalt finish.
The RD 16 also offers as standard a foldable rollover protection systems (ROPS) for easier transportation and storage, a rotating beacon light, working lights, horn and back up alarm. The ergonomic operator's platform features a fully adjustable suspension operator's seat for maximum comfort.
Wacker's new RD 16-90 is powered by a 26.8-hp Lombardini diesel engine. The unit has an operating weight of 3,274 pounds and with both the front and rear drums in the vibration mode, it can produce up to 6,800 pounds of total centrifugal force. The RD 16-90 is designed for compacting base and finish layers of asphalt as well as granular material in confined areas. It's ideal for applications such as parking lots, driveways and shoulder work. ?
Grasan Portable Inclined Screen Plants
Grasan road-portable inclined screen plants are available in standard and custom designs, featuring high mobility, fast setup and long service life. Unit works with materials such as crushed concrete and asphalt rubble, crushed stone and gravel, ores, coal, slag, coke and carbon. Screen sizes range from compact 5' x 12', 5' x 14' and 6' x 16', 7' x 20' and 8' x 20' models. Larger sizes are also available, such as a high capacity 8' x 24' plant with self-erecting, all-hydraulic setup by one person.
Titan Equipment Monitoring from DPL America
The Titan Equipment Monitoring System for mobile, off-road equipment is an advanced solution for remote monitoring and tracking of off-road assets to increase asset profitability and productivity while decreasing the costs and risk of equipment theft. Features include: automatic and on-demand location updates, remote starter disable capabilities, real time updates of machine on/off in transit status, hour meter reporting with daily run time log, service scheduling with past due notices and digital inputs for sensor alarming. System allows managers to track their assets continuously and accurately from an Internet-based software package. Once covertly installed on an asset, the hardware unit wirelessly reports the machine's activity, location, status and other operational data to the software.
Clarence Richard Ez-Flo Scales
The Ez-Flo continuous weigh scales - for dust, fillers and hydrated lime - are designed to be more instantaneous and accurate than reading depleting weights from silo leg base load cells. Features include continuous weighing of powders up to 400 degrees, easily retrofitted to existing equipment, and easy to add to automatic blending and batching systems.
ShedWorks Asphalt Mixture Testing Equipment
ShedWorks Inc. manufactures laboratory and field asphalt mixture testing equipment for mix design, structural design, and construction quality control/assurance. The latest machines include three models of computer-controlled testing machines and three models of automated sawing and coring devices. Testing machines available include an overlay tester, an indirect tension tester and a dynamic modulus hot mix asphalt tester, each of which have integral temperature control systems. The dynamic modulus tester can be used to test 4" x 6" cylinders of asphalt (cut and cored from a larger gyratory compacted specimen) to obtain modulus and phase angle. For thinner specimens down to typical lift thicknesses, the indirect tension and overlay testers are offered. The indirect tension tester can handle 6-inch-diameter specimens and the overlay tester takes a small beam made by cutting each side of a 6-inch core or gyratory specimen. A version of the overlay tester is also available for testing crack sealant materials.
Eagle Crusher UltraMax 1400-45
The 1400-45 high-production, portable crushing plant easily replaces dual crusher circuits without sacrificing productivity. The 1400-45 produces uniform cubical products in the toughest hard rock and heavy-duty recycling applications. It features a three-stage crushing action resulting in a high-crush count and a reduction ratio of 24 to 1, while meeting Superpave specifications. The primary/secondary crushing capabilities eliminates the expense of jaw/jaw, or jaw/cone crusher circuits, and contains a powerful 510-hp diesel engine with 175kW generator, allowing operation of optional equipment without an additional power source. The adjustable primary and secondary curtains allow for precise product gradation control, and the hydraulic-opening impactor housing offers unobstructed access to crushing chamber and secondary curtain adjustment.
Nite Lite from Work Area Protection
Work Area Protection Corp. introduces the Nite Lite, the first portable work zone light that has been designed specifically for the road construction industry. The lightweight and easily transportable Nite Lite provides a non-glaring white light for all moving and static nighttime construction projects. Microprocessor-controlled electronics ignite the high-intensity discharge, gas-filled lamp. Unit draws only 4 amps at 120 volts AC from a 60Hz electrical source. The polycarbonate dome is coated with a light-diffusing compound that allows the 400-watt Pulse StartMetal Halide lamp to provide the necessary illumination for a jobsite. Light output is rated at 42,000 lumens, which is sufficient to light a 15,000-square foot area. Weighing only 26 pounds and having a diameter of 25 inches, it comes standard with a 24-foot grounded plug and stores securely inside a custom, foam-padded carrying case.
RazerTail Truck Unloader from Superior
Superior Industries has added another model to the RazerTail Truck Unloader product line. The 48-inch RazerTail Truck Unloader has a 6-foot discharge height, 50-hp motor, 44-foot length and 1,000-tph capacity. Units are road portable and can be moved from job to job easily only taking minutes to set up. This patent-pending truck unloader includes hydraulic ramps for quick and easy cleanup of material spillage, eliminates contamination of material due to multiple handling and will reduce operating costs by eliminating the need for loaders.
Burchland EZR Material Roller
Bruchland introduces its EZR material roller. Designed to mount on skid steers, unit can install various erosion control material up to a maximum roll width of 8 feet and weight of 500 pounds. The EZR offers three sizes of detachable stems and features a hydraulic actuator which swings the pivot arm 180 degrees left or right and angles of 115 degrees up and 8 degrees down.
Roadtec Slide-Out Operator Stations
Roadtec's latest product enhancement on pavers are slide-out seats on the RP-190 and RP-195 paver models, which provide optimal visibility to the operator. Two stations are provided, one on the right and one on the left side of the paver. Roadtec operator seats with their spring suspension offer the same comfort as high-quality truck seats, and include swivel and reclining functions. Roadtec operator stations also include common functions grouped within easy reach next to the armrest, with propel functions on one side and material feed functions on the other.