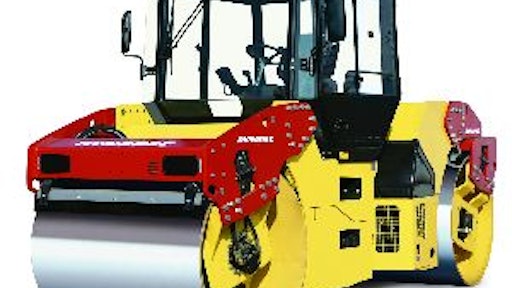 Dynapac Tandem Asphalt Rollers
The CC424HF, CC524HF and CC624HF articulated tandem rollers feature a double pump vibration system that eliminates the need for a vibration valve.
Cummins QSB 4.5 turbo diesel engines ranging from 110 (82 kW) to 125 bhp (93 kW) at 2,200 rpm
Operating mass ranging from 10.5 to 12.6t with the weight split evenly between the front and rear drum modules
"Soft" starting and stopping
Suitable for use on both thin and thick asphalt layers
Multiquip AR Series Rollers
The AR Series tandem and combination vibratory rollers are available in the 1.5- to 4-ton weight class.
10 diesel-powered models with drum widths from 31 to 51 in.
Centrifugal forces from 2,925 to 8,093 lbs.
Dual frequency and amplitude
Standard folding ROPS, backup alarms, pressurized water systems, noise attenuation, sliding seats, 100% side clearance through full flush drums, drum offset and lockable instrument panels
Hypac C766D
The Hypac C766D tandem drum roller has been redesigned to offer improved operator comfort, enhanced performance and greater economy.
Innovative sliding/swivel seat lets operator easily adjust positions for visibility and comfort
4,000-vpm maximum frequency and infinitely variable frequency provide greater compaction speed and efficiency
ECO-Mode automatically saves fuel and reduces noise
Hamm Compact Asphalt Rollers
The HD 8 VV, HD 10 VV, HD 10 C VV, HD 12 VV, HD 13 VV and HD 14 VV articulated tandem rollers offer high compactive effort in a small package suitable for either commercial or roadbuilding applications.
Drum widths from 30 to 54 in.
Wider compaction widths when operated in offset mode
"Vibration front, Vibration rear" (VV) enables vibration in the front or rear drum only, in both drums or no vibration
Case DV Series Vibratory Rollers
The 27-hp, tandem-drum DV201 and DV202 are under 50-in. models offering operating weights from 5,510 to 5,950 lbs. and drum widths from 39.4 to 47.2 in.
Drum frequencies from 3,180 to 3,720 vpm with centrifugal forces from 4,580 to 7,159 lbs.
Simultaneous dual drum vibration or front drum vibration only
Manual or automatic vibration shutoff in neutral travel position
Hydrostatic drive to both drums with infinitely variable speed up to 8.5 mph and a maximum working speed of 4.7 mph
27-hp Deutz two-cylinder engines
Caterpillar CB-434D Compactor
The CB-434D double-drum vibratory asphalt compactor fits in the 5- to 8-metric-ton class and features 59-in.-wide drums.
Automatic speed control with impact spacing indicator
New operator's station with electronic/ergonomic propel lever
50/50 articulation
Five amplitude settings with optional dual amplitude vibratory system with 4,200 or 3,200 vpm
83-hp Caterpillar 3054C Tier II diesel engine
Beuthling Asphalt Compactors
Beuthling asphalt compactors range from 1 to 5 tons.
Gas or diesel engines ranging from 12 to 25 hp on static models and 18 to 51 hp on vibratory models
Options include vandal protection, work lights and rollover protection
Towable, 20-hp models available
LeeBoy 420 Roller
The 420 nine-wheel rubber-tire pneumatic roller features a 2.5-ton static weight.
63-in. compaction width
40-hp Kubota diesel engine
Hydrostatic transmission
88-gal. stainless water tank with spray system
Terex TV1300/TV1400 Rollers
The TV1300 and TV1400 tandem asphalt rollers include an electrical diagnostics system that provides early warning if problems occur.
Operating weights of 7,859 and 9,953 lbs.
Centrifugal forces of 7,175 (TV1300) and 8,090/11,685 lbs. (TV1400)
Static linear loads of 76.6 and 90 lbs./in.
6-in-1 joystick
Removable plastic fuel, water and hydraulic tanks encased in steel
Fully tilting hood design
Sakai SW300 Series Rollers
The SW300, SW320 and SW330 high-frequency rollers offer 4,000-vpm vibration speed.
Counter-rotational eccentric system promotes a smooth surface finish
Dual drum drive for added traction and elimination of bow wave buildup in front of drums
Patented isolator system at each drum and the operator's platform
Shannon Chastain BASIC Model 700
The 1 1/2- to 3-ton BASIC Model 700 pneumatic roller features a seven-wheel design that is said to create greater compaction than nine-wheel machines in its class.
Hydrostatic drive and power steering
28-hp Kubota water-cooled diesel engine
Wheels oscillate independently
Stone Rollers with Snap-Tek
Stone's Snap-Tek technology is now in use on select models in the WolfPac asphalt roller line.
Included on models WP3100, WP4100 and WP6100
Provides quick change-out of components for fast, easy servicing
Encapsulated electronic control box can be easily unplugged, switched out and leads re-plugged within minutes
Volvo High-frequency Compactors
The DD-118HF and DD-138HF offer eight amplitude settings that enable you to achieve the required density without fracturing aggregate particles in the mix.
Vibration frequencies of 3,400 and 3,200 vpm with centrifugal force of 42,680 and 42,260 lbs.
SMART start system
Impact meter allows precise control of optimal rolling speed for the desired drum impact spacing
Dual water spray drum wetting system
Four- and six-cylinder Cummins engines
Hydrostatic direct drum drive
JCB Vibromax Tandem Rollers
The Vibromax 390 and 400 model tandem rollers are well suited for medium-sized paving jobs.
Drum widths of 51.2 and 55.1 in.
Ultra-quiet, 46.6-hp four-cylinder Kubota diesel engines
Sealed articulation joints
Splash-lubricated bearings eliminate the need for greasing
Single control lever allows fingertip operation of forward/reverse and vibration on/off
Wacker RD 27 Series Ride-on Rollers
This 2.5-ton class ride-on roller series includes two models featuring 39.4- (RD 27-100) and 47.2-in. (RD 27-120) drums.
Dual vibration frequencies
Throttle lever controls exciter frequency in each drum, adjusting centrifugal force to the high or low position
Ergonomic design with improved visibility and vibration-isolated operator's station
Single, hydraulic control lever with built-in vibration control switch