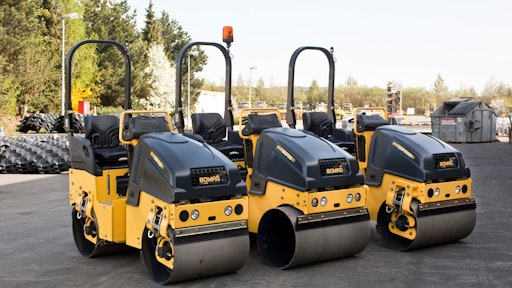 There are certain types of equipment in your fleet that don't change much over time, but compaction is not one of them. Rammers, plates, trench compactors and rollers are constantly evolving to meet the changing needs of today's jobsites. Following is an update of some of the innovations in compaction equipment that can make it easier for your crew to do a better job in the field.
High-quality compaction is the goal

Advancements are being seen in all areas of compaction technology, but perhaps the area currently getting the most attention is compaction metering. Compaction meters not only improve the final product, creating better roads and paved surfaces, they vastly boost efficiency by shortening the time it takes to get to the finish line, reducing operator fatigue, saving gas, as well as lessening wear and tear on machinery.
Plate compactors have featured compaction meters for several years, making their first appearance on Weber MT models in 2004, but they're becoming much more prevalent now that several manufacturers have begun offering the feature on their models.
"Having a tool that guarantees uniform compaction to at least 95% or 98% standard Proctor density and assuring that the area has no weak spots is not only a quality assurance tool, but a huge time and money saver," says Peter Witt with Weber MT.
Weber MT's compaction control device, called the Compatrol-MSM, is in its second generation. It's not only a compaction meter but incorporates machine and motor service functions as well: engine temperature, eccentric frequency, air filter and V-belt usage are monitored consistently and the operator receives feedback if any of these parameters are outside of their tolerances. "This enhances engine and machine life and dramatically reduces the cost of ownership as preventive maintenance costs are always lower than any repair costs," Witt says.
Compaction metering technology has increasingly been adopted in various forms by manufacturers such as Bomag, Ammann, Multiquip, and Atlas Copco (Dynapac).
According to Jon Williamson with Multiquip, the new COMPAS (compaction analyzing system) for the Mikasa MVH306 and MVH406-series reversible plate compactors helps operators improve efficiency and maximize productivity, while avoiding costly over-compaction. He explains that a series of LED lights indicates the progress made with each machine pass. As soil density changes, lights illuminate and inform the operator to either make additional passes or stop because optimum soil conditions have been attained for the specific plate compactor.
"Contractors are increasingly looking for ways to reduce costly errors, such as over-compaction, and for ways to train new operators on proper equipment operation," Williamson says. "The COMPAS provides real-time feedback to the operator."
BOMAG has taken the intelligent compaction technology that has been available on heavy rollers for many years and applied similar technology to its mid-size and heavy walk-behind reversible plate compactors. "Our reversible plate compactors are offered with the Economizer soil stiffness indicator, which shows instant soil stiffness results on an LED light display," explains Timo Stenz with BOMAG Americas. "This allows operators to react quickly to changing conditions and gives them the confidence that the job is completed correctly. And in addition to ensuring compaction quality, this saves time and money by allowing jobs to be completed in fewer passes."
Quality of compaction is a balance between compactor static weight, centrifugal force, vibration frequency and compactor shape, explains Dave Schulenberg with Wacker Neuson. This is especially true in asphalt compaction where finished appearance is extremely important.
"The Wacker Neuson WP asphalt plates are an excellent example of the perfect balance of these factors," says Schulenberg. "The centrifugal force and static weight are high enough to provide excellent compaction on common asphalt lifts, but not so high that it marks the surface. The WP plate also features a patented base plate design that allows operators to spin the plate in place without marking the asphalt. This is a key feature for compacting in confined spaces."
Less Operator Fatigue  = Higher Productivity
Increasing awareness and concern for safety is currently a huge trend in compaction equipment, according to Schulenberg. "The concept of safety is growing beyond the traditional concept of protecting an operator from an injury-causing accident," he says. "We're seeing increasing regulations in Europe for noise, hand/arm vibrations (HAV) and exhaust. Concurrently, North America is increasing its regulations on engine emissions. We are also seeing customers operating outside of the EU ask for products that are compliant with these regulations. They recognize the benefit of these regulations in terms of improved productivity. Wacker Neuson is continuously improving its product with respect to noise, HAV and emissions."
The effort to reduce HAV, in particular, originated in Europe, where regulations are more strict with regard to ergonomics. As a result, manufacturers such as Weber MT and Atlas Copco have introduced patented or trademarked solutions to further remove the operator from the vibrations of the machine, while still allowing precise control of the unit. Weber MT's solution, for example, includes a design incorporating three additional shock mounts (or isolators) to increase operator comfort, a very valuable design feature, especially during long projects.
Likewise, selected models of Multiquip rammers and vibratory plates are equipped with handle designs that improve operator comfort by reducing vibration. "Mikasa reversible plates feature ergonomically designed handles designed to minimize the vibration transferred to the operator," says Williamson.
BOMAG tampers and reversible plate compactors also have ergonomic handles that are height-adjustable to suit different operators. "The handles are also isolated from vibrations so operators can work longer and more comfortably," says Stenz. "BOMAG BVP single-direction plates have the lowest hard-arm vibration levels among all industry standard plate compactors."
Vibration isolation is the single most important factor in improving ergonomics and operator comfort on compaction equipment, Schulenberg says, adding, "We're always experimenting with new materials and machine configurations in order to develop the lowest-vibration environment possible without sacrificing the control of the machine."
Engines that Stand Up to Compaction

Engine technology is currently a very heated topic, as manufacturers of larger pieces of equipment struggle with meeting Tier IV regulations while maintaining the performance of their machines.
"All engine designs are being impacted by increasing emissions regulations," Schulenberg says. "Larger diesel engines are going to start using common rail injection, turbochargers and particulate filters in order to meet Tier IV regulations. Small engines are affected as well."
On smaller types of compaction equipment, such as rammers, for example, there are unique engine concerns. There is perhaps no environment harder on a small gasoline engine than rammer usage. To meet the demand for a durable rammer engine, Subaru developed its ER12 model with this application in mind.
Multiquip's Mikasa MTX70SD rammers are now powered by the new Subaru ER12 engines, Williamson notes. "The machines avoid engine issues with an oil protection system and a longer maintenance cycle, which is 50-percent longer on oil replacements. They offer an easier start with a digital ignition system and high performance, even in high-altitude applications with a lower need for high-altitude adjustments. In addition to a low-noise engine design, there is an automatic engine shut down if the unit falls over or idles for longer than five minutes."
Witt from Weber adds, "Clearly the ER12 from Subaru is the latest in engine design specifically for rammer/jumping jack applications. It dramatically improves the balancing of the unit and incorporates features such as an ongoing low-oil warning sensor (i.e., not
just upon start-up)."
For its part, "Wacker Neuson is the only manufacturer that invested in enough research and development to retain our WM80 two-stroke rammer engine," Schulenberg points out. "Wacker Neuson improved the WM80 cylinder design and added after treatment to not only continue offering the WM80, but to convert it into the lowest total emission rammer engine available."
Designed for durability
Manufacturers know that contractors can't make money if equipment is in the shop for repair, so durability of compaction is a primary focus and manufacturers are designing compaction equipment that can go the distance.
"For both single-direction and reversible plates, the trend is toward casting the base plate and the eccentric housing all in one unit," says Witt. "While the cost of a potential replacement base plate in the future would be higher, this is more than offset by multiple advantages: First the all-in-one cast removes any bolts that fasten the eccentric housing to the plate and thus, eliminates a potential source of failure such as loosening or broken bolts. It also decreases maintenance and repair time and thus, puts a machine back into (rental) operation sooner. Thirdly, it lowers the center of gravity as the eccentric weight is closer to the ground which dramatically improves compaction capabilities, climbing characteristics and overall control of the machine."
All three of Weber MT's single-direction plate models have been redesigned to incorporate this technology, and the company will complete the transition for reversible units within 12 months, Witt says.
Stenz says Bomag has also made improvements to keep i8ts compaciton equipment in the field. "We've put a lot of emphasis on making BOMAG products more durable to protect internal components and maximize longevity," says Stenz. "For example, our BMP8500 articulated trench roller utilizes a highly damage-resistant composite material for the engine hood."
Also designed for durability, the Wacker Neuson Smart Combi 2 infra-red control system is used on the RT trench roller and both the DPU 7060Ft and DPU 130 reversible plates, Schulenberg says. "The SC2 is Wacker Neuson exclusive remote control system and is the only remote control system on the market designed exclusively for the rigors of compaction work," he says. "The SC2 is a completely sealed design that can withstand the worst dust and water a jobsite can offer. In addition, the patented infra-red system is the safest system available since it requires the operator to see the machine in order to operate it. It also creates a safety zone around the operator where the machine cannot operate and injure the operator. Other machines use radio remote systems that allow the operator to control the machine when they cannot see it. This is a big safety risk on jobsites because the operator could unknowingly move the machine and put another worker in danger."
Companies in this article