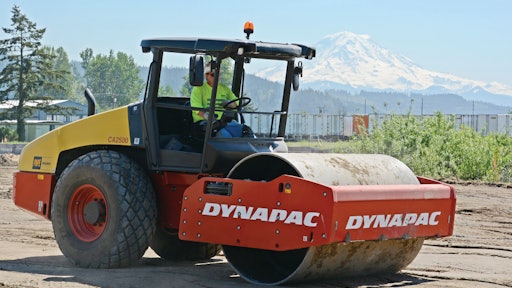 As a site development contractor working the upper West Coast, J.R. Hayes & Sons, Maple Valley, WA, has been shaping the face of the Seattle-Tacoma landscape for over 40 years. From master-planned communities, to site preparation for Boeing expansion projects, to creating and upgrading infrastructure that local residents and visitors use every day, the company has literally participated in all phases of construction from the ground up.
In a construction market that's taking its time to recover from the recession, there is stiff competition for new contracts. About 80% of the work J.R. Hayes & Sons contracts is private, from single-family residences to housing developments and commercial infrastructure for small and large clients. It also completes municipal work such as schools and public roadways.
The Pacific Northwest's unpredictable weather can pose extra challenges. "Basically, if a contractor can't get a start on a big project by June, chances are it won't get completed," says Tony Perrotti, GM for J.R. Hayes. "It's such a compressed project window here."
J.R. Hayes & Sons has to be ready to roll with every opportunity to work without losing any time. To prepare against weather unpredictability, J.R. Hayes & Sons doubles the size of its crews, with a workforce totaling more than 300, during the peak of construction season.
On A Roll
Dependable equipment in this environment is also critical. This season, J.R. Hayes & Sons purchased five Atlas Copco Dynapac CA2500 single-drum vibratory rollers from Papé Machinery in Kent, WA. Papé is one of the largest dealers in the Pacific Northwest, with 21 locations in several western states for its construction and forestry division.
"The new series Dynapac soil compactors with iT4 engine technology are very quiet and provide ample power," says Dave O'Connor, account manager for Papé. "The improved operator station and controls are very friendly and assist operator productivity. And the new articulation hitch design looks very robust and will provide excellent service life."
During a recent project, four of the new rollers were put to work in the field. One was preparing an exhausted gravel pit for commercial development, complete with its own road. The project called for compacting a long stretch of roadway to 98% or more, along with compaction of a steep shoulder with a slope at a grade of about 40%. The grade steepened incrementally toward the far end, which was unmeasured.
As roller operator Becky Bechtold worked the steep slope, the vibratory drum would stop on its own accord each time she stopped the machine. As she engaged forward or reverse, the CA2500's automatic vibration control started the eccentric up again.
Bechtold drove the 23,700-lb. roller slowly up and then over the top of the shoulder, stopped momentarily, and then began to back slowly down. Each time the roller transitioned from level to the steep slope, the traction control (anti-spin) system made adjustments that prevented the drum and wheels from slipping in spite of the powdery, loose dirt surface. 
An hour's drive from the gravel pit worksite, roller operator Sean Hay was operating another of the CA2500s on two separate projects. The first was a 4,000-ft. roadway to an industrial park. The other was for a business within the park.
Having finished compaction of a driveway's gravel sub-base alongside the new building's curbed walkway, Hay slipped the roller into a small parking lot along the road. "I think [the CA2500] is a bit more flexible than the roller I was on before," says Hay. "It has a nice turn radius."
Hay also likes the field of view the roller provides. "I can watch the edge of the drum around obstacles," he states. "And the mirrors – it might sound like nothing big, but those big mirrors really make it easier on the operator's neck over the course of a shift."
He also appreciates the Autovibrate feature. "[It's] one more thing I don't have to worry about since it turns itself off when I stop and then starts itself when I'm moving again," he says. "And the digital displays give a much better readout of the information, like whether vibration is on high or low compaction, fuel level, heat – the usual stuff." 
Preventive Maintenance Package
J.R. Hayes knows that roller downtime can be a production nightmare. "One roller breakdown can completely shut down a job," notes Perrotti. "Production stops because everything follows compaction."
Dan Hayes, J.R. Hayes & Sons owner and CEO, says they've come to rely on Papé Machinery for many aspects of service. "On every level, from top management on down, we have a strong relationship with Papé that best meets our equipment needs," he states.
For example, Papé provides J.R. Hayes & Sons with a preventive maintenance agreement. Papé's technicians are specifically trained to service Atlas Copco's Dynapac equipment and do "everything but FOG (fuel, oil and grease)," including dispatch and billing, according to Perrotti.
According to Perrotti, benefits of the agreement include guaranteed, known costs; having to keep less inventory on hand; and getting by with fewer employees, and the need to find busywork to keep them busy during the wild fluctuations of the work season. It also allows J.R. Hayes & Sons to focus on what they do best – site development.