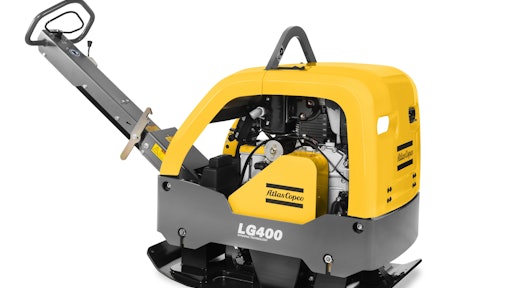 Equipment plays a vital role in compacting base materials and as a result, the quality and integrity of the finished concrete. From tampers to large soil rollers, compactors come in diverse product lines with numerous applications. They compact materials around foundations for landscaping and even handle preparing soil for larger projects, such as parking lots. It's not only important to choose one for what it can accomplish on a project, but also for what it can accomplish in terms of productivity and uptime.
 Small equipment. Big results.
 A variety of light compaction equipment, including plate compactors and rammers, make a good addition to an equipment fleet. Contractors can use the equipment on a wide range of projects, from small patios to larger driveways. Selecting compactors that are dependable, as well as easy to use and maintain, ensures several years of use with routine maintenance. Such equipment also requires a relatively minimal investment. Generally, look for units with productivity-enhancing features that reduce servicing downtime and are highly maneuverable.
When faced with a bigger pavement job, such as a driveway, plate compactors are the best friends for ensuring a solid, deep base layer of granular soil for the concrete. Look for models that travel quickly, some as fast as 105 feet per minute, which helps complete larger projects fast. Contractors also save time with models that have a compaction indicator. This will help take out the guesswork of knowing when the ground is compacted and will prevent over compaction.
For compaction work on cohesive and granular soils in the narrowest of areas, including around structures and between plants, choose a rammer that allows operators to achieve maximum productivity. Lightweight units with narrow tamping feet — some as narrow as six inches—make it easy to maneuver close to obstacles.
Big equipment. Big potential.
Light compaction equipment allows contractors to tackle small- to medium-sized projects, but with larger soil rollers, contractors can position themselves as a one-stop source for big applications too, including parking lots. Not only that, larger soil rollers can maximize time spent compacting soils, which saves on labor costs. Whether renting or purchasing, contractors need to look for features on soil rollers that maximize productivity and up-time to complete projects quickly as well as accurately.
Cross-mounted engines on soil rollers sit perpendicular to the frame, rather than parallel. This allows technicians to easily reach all necessary components and the hydraulic pump inside the engine compartment so maintenance is easier and faster. Also consider features than can prevent maintenance.
Contractors often use soil rollers for a good chunk of time, so if the operator needs to strain or bend to see the drum edge and working surface, it could impact their productivity and ultimately delay a project. Straining and bending can even take a toll on the operator's body. Choose units with sliding seats and user-friendly controls that move with the operator to provide optimal visibility of the working surface and drum edge, as well as eliminate the need to lean or twist. Also consider what it will cost to run the unit. Rollers with rpm-management systems can reduce fuel consumption as much as 15 percent by automatically idling the diesel engine after 10 seconds in neutral.
When it comes to new technologies, intelligent compaction has certainly made headlines. While the cost of the systems might not be a great fit for every concrete contractor, those who often work on larger projects, such as parking lots, may find the system pays off over time.
Having an IC system optimizes soil compaction by providing real-time data, such as pass counts and relative stiffness of the soil. For example, some IC systems use global navigation satellite systems to track the number of completed passes, and drum-mounted accelerometers measure the surface's relative material stiffness. This means the operator can review stiffness results to minimize the number of passes almost immediately. This minimizes the risk of under compaction and over compaction, which can be time consuming and costly to remedy. The system also allows the contractor to set project parameters, which alert the operator after achieving optimal compaction levels.
From a quality assurance standpoint, contractors can use the data from IC systems to prove that compaction standards were met. This minimizes the risk of costly litigation or having to restart the project.
When considering IC systems, look for units that offer excellent mapping capabilities, which show missed areas, spots that need additional passes, and where over-compaction occurred.
Also look for an IC system with accelerometers that measure the drums' responses to ground conditions about three to five feet below the surface. That way, as surface density increases, the frequency response of the drum changes. The accelerometers measure that frequency change, which registers on the display inside the cab. This shows the operator if additional passes are required or when he or she achieved optimal compaction.
After the sale
As with any equipment, manufacturer support after the initial sale protects the contractor's investment and, in some instances, extends the service life of the machines.
Equipment training from the dealer or manufacturer maximizes operator productivity as well as reduces the risk of premature equipment wear. Manufacturers might offer on-site training, which allows the crew to learn how to operate and maintain the equipment on their own jobsite. Most manufacturers also include operator's manuals with the machines, but look for ones that also post them online. This allows contractors, operators and mechanics to access them 24/7 for questions that might come up during operation or maintenance.
Consider a manufacturer that offers a wide breadth of products. This eliminates the hassle of sourcing a variety of machines from numerous manufacturers to complete an equipment fleet. Plus, it's more convenient for contractors to order any replacement parts or materials, such as hydraulic oil. Some manufacturers might offer special financing options to make owning a variety of new machines financially possible.
Crush the competition
Selecting the right compaction equipment might seem like an easy task, but taking the time to look at how each feature impacts the overall operation can have big payoffs. From cross-mounted engines to compact footprints, it's these features that feed a contractor's productivity, uptime and, most importantly, profits.
Ed. Note:
Darrell Engle is the Atlas Copco product manager for light compaction equipment. Engle has more than 20 years of experience in the construction industry — more than half of which is with Atlas Copco. Darrell can be reached at darrell.engle@us.atlascopco.com.

Tim Hoffman is Atlas Copco product manager for rollers. His experience in the construction industry spans more than 20 years—half of which has been with Atlas Copco. Tim can be reached at tim.hoffmann@us.atlascopco.com.

Companies in this article