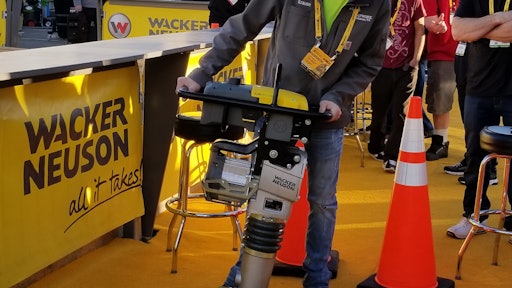 What is generally referred to as a rammer, tamper, jumping jack, and even sometimes the old-timey "Paddy's motorbike" is often simply called a Wacker. This makes sense, since Wacker Neuson has long been accepted as the standard setter for vibratory compaction in the construction industry and pioneered the two-cycle rammer nearly a century ago. That tradition of innovation continues now with the company's latest addition to its lineup, the AS50e, which takes its place beside its gas-powered brethren as the first-ever emissions-free, cordless, battery-powered vibratory rammer.
Using lithium-ion battery technology, the AS50e, which was introduced at Conexpo 2017, was designed for use in commercial interior construction or renovation projects, as well as in poorly ventilated areas such as trenches and small buildings, and in sound-sensitive settings like hospitals or schools. Meanwhile, it's also targeted to rental yards and environmentally conscious builders.
To see what it's all about, we took a close look at the AS50e while at World of Concrete 2018 in Las Vegas. What we found is a machine that fills a specialty need but which could also easily substitute for a gas-powered model.
Not just for indoors
"Anyone concerned with emissions from a gas product, this is the tool for them," says Fred Paul, sales application/engineering manager at Wacker Neuson. "It's designed for indoor applications but with its lower noise, lower hand-arm vibrations and lower emissions, it has advantages in any setting."
"I like it," says Dylan Milis, owner of Milis Flatwork in Kaukauna, WI, who's operated the AS50e. "It offers a lot of benefits to interior work… there are no fumes, it's easier to start up, you're not using a pull cord, things of that sort. It seems like it has just as good pounding power as the gas-powered rammers, but it's smoother on the shoulders."
The AS50e operates with a push-button start, and is designed to be easy to guide along walls, Paul explains. The guide handle is specifically designed for the rammer and results in low hand-arm vibration (HAV) for the operator. The AS50e is also quieter than engine-driven rammers, making it ideal for noise-sensitive applications.
Conveniently cordless
Wacker Neuson offers a diverse line of rammers, including two-cycle, two-cycle oil-injected and four-cycle models, and now the new battery-powered AS50e. "We like to call it 'cordless,' because it sounds better than 'electric'," Paul says with a laugh, noting that it performs consistent with gas-powered models of similar size.
"Our smallest rammers are the BS50 series," he explains. "We have 60s and 70s, which are just larger series. The AS50e weighs close to the 60 series but hits like a 50. You get a little extra weight with the battery, which does help with the impact force."
The battery, which weighs 20.7 lbs., supplies 30 minutes of run time from each charge.
"That doesn't sound like a lot, but if you cycle this through six charges per day, you'll get about 60 cubic yards of material compacted," Paul says. "That's a lot of material."
Once the rammer battery has exhausted its 30 minutes of run time, it must be recharged in Wacker Neuson's docking station, which comes with the machine. Removing the battery is simple; it requires no tools, just a flip of a lever on each side. Paul says it takes about an hour and fifteen minutes to recharge the battery, which can be recharged 1,800 times in its life, after which it will still have 80 percent of its original capacity.
The AS50e battery features a series of lights that regress to indicate the charge level during operation. When the battery gets too low, the machine automatically stops.
"It's not like a cordless drill that starts to lose performance over time," Paul explains. "When it's done, it's done, and ready for another charge. But you can recharge it at any point; you don't have to wait for it to be fully discharged to start recharging it."
Proven componentry, new shock mount
Wacker Neuson uses the same internal components on the AS50e as it does on its gas-powered models. "It has the same spring system and the same gear drive system, all we've really done is replace the gasoline motor with an electric motor and battery pack," says Paul. "It's proven componentry, just a different drive."
The AS50e, which weighs 154.5 pounds and hits at a percussion rate of 680 blows per minute, does use a new shock mount that's different from the one used on gas-powered rammers. "Because of the application, and because it was designed for ultra-tight conditions, we've gone to a vertical-plane type of shock mounting system compared to the usual pivot style that you would find on traditional gas rammers," Paul says. "It feels a little bit more comfortable because there's not as much reverb to the operator."
He adds, "For comfort and ease of use, the operator may at times want to put their hand on the front of the handle and run it from the side, as opposed to running it from the back as usual."
Rental ready
The AS50e's ease of maintenance makes it ideal for a rental setting, according to Paul, who says there's almost nothing you have to do to maintain an electric rammer.
"It's a maintenance-free motor. Making sure it's charged up when you send it out on rental is all you need to do. Then once a year you need to change the oil in the lower end, but that's simple… you just pull the drain plug, fill it back up with oil and you're ready to go," he explains.
As far as acquisition cost, the AS50e does come at a premium. "It is more than a gas model," Paul says. "But it's designed for a specialty market, so you should be able to get a little higher rental rate for it as well."