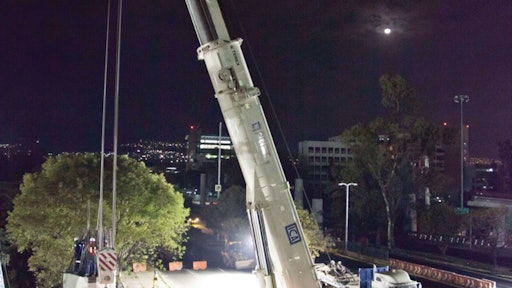 The challenge:
Lifting and placing prefabricated concrete columns, beams and components for construction of a new elevated road in Mexico City
The players:
Ingenieros Civiles Asociados SA (ICA)
The process:
To relieve traffic congestion and a potential gridlock situation in Mexico City, new road links have to be construction. However, building in a massively congested city poses huge challenges. The solution has been to construct a major new elevated road to the south of the city. Ingenieros Civiles Asociados SA (ICA) is using Terex all terrain cranes on a major highway project.
The first section is the 7-mile-long Autopista Urbana Sur (Urban Highway South) being built by Mexican contractor ICA Ingenieria at a cost of about $450 million. The highway has been designed to alleviate the congestion to the south side of the city cutting journey times by half. This new road features four lanes - two in each direction - but also includes some stretches of six lane carriageway. The road connects San Geronimo to Tlalpan Viaduct at the second deck level of the city's existing elevated peripheral highway.
Given the tight space considerations and tricky logistics in the city the road is being built using prefabricated concrete sections made about 24 miles away from the construction area and erected during the night. The prefabricated concrete production facility had 22 hectares, 15 fabrication tables and 120 molds. With an industrialized process and a workforce of over 2.000 workers, it was able to deliver all pieces on time to be transported and mounted each evening. Approximately 18,000 prefabricated elements were utilized for this project, which were installed between 11:00 p.m. and 5:00 a.m., the only time the vehicular transit was interrupted. This is the first time in Mexico that this construction method has been used to build a complete overhead highway, and it is also the largest urban project of its kind so far.
ICA used Terex's AC 500-2 all-terrain cranes to erect the main concrete columns, beams and components. Larger components are lifted using tandem lifts. "Because it is an urban jobsite with limited space for heavy lifting and work access was only available for six hours each night, we needed a crane that had quick travel speed, rapid set up time and excellent lift capacity," said Ignacio Villaseñor Sanchez, ICA equipment director. "The AC 500-2 fit the bill perfectly."
 "The cranes performed faultlessly and had 97 percent availability, only stopping for planned maintenance," said Sanchez. "The crane was extremely reliable and fitted with good safety systems. Everything related to the set-up and rigging went very smoothly. Obvious challenges included the lack of space on the jobsite; however the AC 500-2 is one of the most maneuverable and compact cranes in its class, which helped."
The time taken for the Terex AC 500-2 to drive from the depot to the jobsite was about 30 minutes and another hour was needed before it was fully rigged and ready to lift. Between four and five people were involved in the rigging process and just two additional low loader ballast wagons were needed.
Some column sections weighed up to 468 tons while the 118- to 157-foot-long and 13- to 21-foot-wide (depending on the number of lanes they carry) horizontal sections weighed up to 385 tons. In total there are about 20,000 pre-cast components made from high strength concrete including about 500 columns varying in height from 16 to 82 feet. Sections were prefabricated at a pre-casting facility using a process that took just 48 hours. Once cured the units are transported and placed in to position on site.
"The AC 500s are lifting at an average height of about 65 feet and carrying out either single or tandem lifts between 11 to 242 tons at a radius between 32 to 49 feet - typical low radius heavy lifting," said Bernardo Quintana Kawage, general director of ICA. "First the cranes are positioned on site and the modular elements to be lifted arrive in sequence. Once lifted and positioned they are welded and secured. Then the next element arrives and the process is repeated over and over. When the cranes need to move, they remove their own counterweight onto a low-loader and then move to the next jobsite. In all, between seven and 15 people were needed to set-up the crane and carry out the lift."
Super-efficient logistics are critical to enable the construction to keep to the 14 month schedule with three to four massive sections being installed each night. Because of the size of the main elements, they are erected one at a time, although smaller elements can be erected simultaneously. The support columns feature an integrated shoe and head design. This makes the erection process much quicker, although precise positioning of the columns is needed to locate each unit into deep foundations prepared in advance.
The project was expected to be completed by the end of 2013.