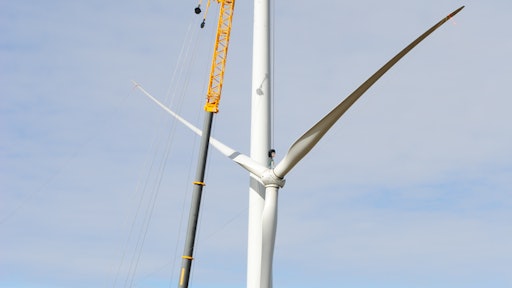 Northwest Crane Service has been generating interest in its new 750-tonne telescopic Liebherr crane since completing its first projects just a few weeks ago. The Oklahoma lifting specialist took delivery of its new flagship at the end of December – the first LTM 1750-9.1 in North America.
"This machine has the capability to complete projects that previously would have required a crawler crane," said Northwest Crane Service's owner Andy Hodges. "Crawler cranes are still an important part of our fleet, but to have a telescopic crane on rubber tires with such lifting capabilities adds a whole new aspect to what we can offer our customers. It enables us to mobilize more quickly and carry out lifting projects more efficiently than ever before. For short-term, in-and-out, heavy lifting projects, this is a great solution."
Northwest Crane Service personnel received training in Houston prior to delivery of the new crane, as well as additional training after the crane was delivered to its Oklahoma City yard. Being already familiar with the Liebherr LICCON 2 operating systems and crane designs, there were no difficulties adjusting to the new LTM 1750-9.1. 
One new feature that particularly appeals to the operators is the Bluetooth remote control capabilities that allow them to be more directly involved with the assembling of the crane.
Northwest Crane Service has completed several wind turbine maintenance projects with the LTM 1750-09.1 to date with more of the same scheduled.
Northwest Crane Service has been involved in the wind power generation industry since the first wind farm was erected in Oklahoma, and now works nationwide in this sector. Demand for this crane's capabilities is also coming from petrochemical plant and oil refineries.  "This crane has definite advantages across a wide range of industries."
The main boom of the LTM 1750-9.1 extends to 171 feet. With jib extensions and the telescopic boom Y-guying system, it provides a maximum lifting height of 505 feet.
It is mounted on a nine-axle carrier (18x8x18) powered by an eight-cylinder Liebherr diesel engine rated at 677 hp. It can travel at speeds of up to 50 mph.  The four rear axles are actively steered electro-hydraulically and speed-dependent. In crab steering mode, all nine axles are steered, so there is no need for any axles to be raised.
The very first job for this crane was replacing the gearbox of a 1.5 MW wind turbine that stands 262 feet high.
The crane arrived on site on a Monday morning accompanied by just eight ancillary trucks for boom system extension components, counterweight sections and rigging gear. By the end of the day, it was all rigged up and ready to work.
The actual lifting operation – removing the old gearbox and replacing it with a new one – was carried out on the next day. By Wednesday mid-afternoon, the crane had been completely stripped down and ready to head home with all eight trucks also packed up. 
Pprior to having the LTM 1750-9.1 in his fleet, a crawler crane would have been used for this particular job, Hodges said. That would have taken much longer to set up and tear down, adding cost to the project.
"For a crane of its capacity, the simplistic design of the Liebherr LTM1750-9.1 allows for an extremely efficient rig up and rig down process," he said.