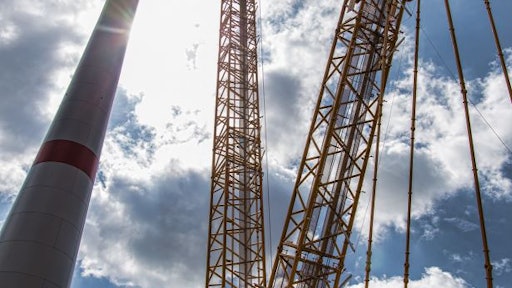 The challenge:
Erecting largest models of E-101 series of wind turbines at Germany wind farm
The players:
Franz Bracht Kranvermietung
The process:
The Scharrel community wind farm at Saterland's Ostermoor bog in Germany needed to install wind turbines that reach a hub height of almost 489 feet – the largest models of the E-101 series. For the erection of these giants, Franz Bracht Kranvermietung - the crane service provider - relied on the capabilities of the new Terex Superlift 3800 lattice boom crawler crane, which was developed with this type of application in mind.
Thanks to the crane's lateral outriggers, the Bracht team erected it with much less ballast than would be necessary for other cranes of the same class and without an assist crane, reducing transport costs. "This not only shortens the setup time but also means that fewer transportation trucks are required, which saves us money," says crane operator Michael Hildebrand. Thanks to its design to make assembly easy, the crane was fully set up with an SLS + LF_4, 502-foot main boom and + 12 m LF superlift configuration in a mere two days.
"Despite the large load, the Superlift 3800 responded perfectly to its controls even when performing close to its operating limits: The slewing system, with its two motors, worked extremely smoothly, and the hoisting gear enabled me to maneuver loads with incredible precision within a range of centimeters," Hildebrand said.
Erecting the concrete tower sections was the prelude to the most challenging part of the lift. The Terex Superlift 3800 picked up these sections from the ground in tandem with a mobile crane in order to prevent them from swinging while being placed in their vertical positions. After the concrete tower was completed, the heaviest load was next. The 73-ton nacelle was lifted to a height of 492 feet and then placed onto the tower. The final portion of the lift, positioning three 164-foot-long rotor blades to be connected to the nacelle, required laser-like precision and just the right touch, since the blades were relatively lightweight and had plenty of surface area for the wind to catch.
"Despite the enormous wire rope length of 548 feet that we used for these lifts, the smoothly running hook block made sure that the blades didn't start swinging around," Hildebrand said.
Companies in this article