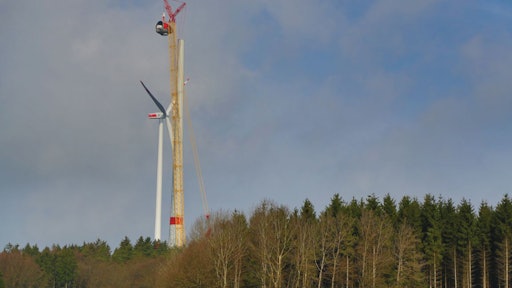 The challenge:
Erecting wind turbines in Germany's Hunsruck mountain range
The players:
Steil Kranarbeiten GmbH
The process:
In April 2013, Steil Kranarbeiten GmbH picked up its new Superlift 3800 crawler crane at the Terex Zweibrücken location and took it directly to its first worksite in Gödenroth, Germany. "The advantages of the Superlift 3800 can mostly be seen in the significantly reduced weights of its individual components and in the fact that you need up to 100 tonnes less counterweight when setting up the long boom system. The new Terex crane's design makes assembly incredibly easy and helped speed up the setup process," says Steil project manager and crane operator René Perlich. When assembling the boom, the team deployed the Terex fall protection system, which comes as standard and enabled the personnel to work at height while being protected by lanyards. With all this, the team was able to carry out the setup process safely, efficiently and cost-effectively and finish just two days later.
With an LSL+LF_4 452-foot 9-inch + 39-foot 4-inch configuration, the Terex Superlift 3800 crawler crane was ready to lift all of the wind turbine's components. The first components to be lifted were two tower sections with a weight of 1,458.9 and 1,868.1 pounds. Shortly after came the heaviest component: the nacelle, which had a gross weight of 1,709.7 pounds and was lifted to a height of 442 feet. The final step consisted of mounting the rotor blades – the biggest challenge in any wind turbine erection project. For this project, blades were mounted individually, and the new Superlift 3800 crane smoothly handled all the three lifts. From the crane operator's point of view, "The controls proved to be incredibly sensitive, which made this kind of high precision work much easier. On top of that, the cab is very comfortable and it runs really quietly," said Perlich.
As this was Steil's first jobsite with the Terex Superlift 3800 crawler crane, three Terex team members provided on-site support and training to the Steil team. They briefed Steil's assembly technicians during the crane setup process and helped the crane operator become familiar with the way his new machine operated. "This collaboration with the technicians from Terex was perfect from the beginning, which means we were able to avoid running into any delays or complications during the setup and the lifts.," Perlich says. After minor delays due to weather conditions, the wind turbine was fully erected in a couple of days making the debut of the Superlift 3800 crawler crane a successful one.
Companies in this article