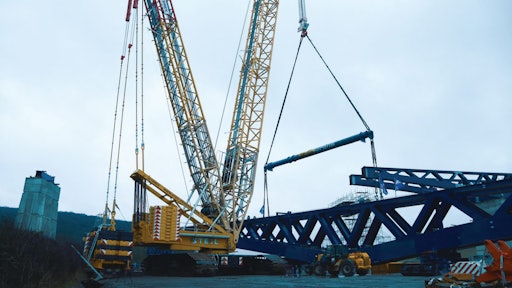 The challenge:
Carry 314-ft.-long, 650,363-lb. steel girders 164 ft. and place them on concrete piers to bridge a valley
The players:
Steil Kranarbeiten GmbH & Co. KG
A.T.S. Cranes S.A.
The process:
"A 440 meter-long bridge had to be built across a valley to connect a new section of highway. To do this, we had to lift a total of 14 steel girders and set them down on concrete piers," says Cary Arendt, CEO of A.T.S. Cranes S.A. "It was one of the most challenging lifts of my career." To perform these lifts, A.T.S. Cranes asked for help from Steil Kranarbeiten GmbH & Co. KG and its Terex Superlift 3800 crawler crane.
The massive pieces that were part of the bridge were impressive on their own: a length of 314 feet, a height of 22 feet and, together with the required load-securing devices, a weight of 650,363 pounds each. "It was a job that almost seemed to have been planned with our Terex Superlift 3800 crane in mind," says Peter Frechen, transportation logistics and heavy crane dispatcher at Steil. "The crane was set up and ready to work in one and a half days."
To lift the 14 loads, Steil's team erected the Superlift 3800 crawler crane in a SSL1 configuration with a 236-foot main boom, 551,155 pounds of counterweight on the superstructure, 110,231 pounds of central ballast, and 440,924 pounds of counterweight on the superlift tray. To provide stability when lifting a load of such dimensions, Steil's rigging team configured the vario hookblock with dual hooks and a spreader.
"We used two hoisting wire ropes and ten-part reeving, which meant that, at 39,683 pounds per reeving, we would need a maximum lifting force of 793,664 pounds. In other words, we were very well on the safe side," said crane operator Matthias Ferres. To place the girders in their supporting pylons, he first lifted them to a height of 72 feet, swiveled them to the side, and then moved the crane forward about 164 feet in the direction of the bridge piers. To provide sufficient ground stability, the crawling path was rigged with steel plates. Once Ferres advanced the full 164 feet, he swiveled the load back in and then set it down on the corresponding bridge pier at a working radius of 77 feet. "The Superlift 3800 crane allowed me to carry out all the lifts with incredible precision," said Ferres.