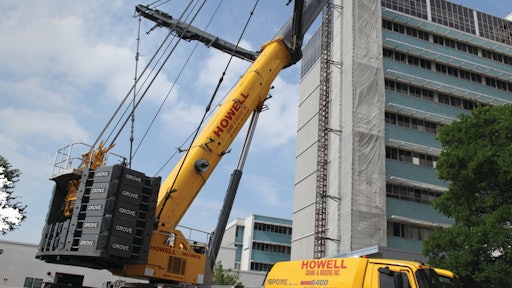 Let's face it: Wind is not always a crane's best friend. But with careful planning and a boom that's manufactured to the highest standards of quality, lifting companies can overcome less than ideal conditions to get the job done.
Such was the case when Howell Crane and Rigging set out to complete a project at Methodist Hospital in San Antonio, Texas. The company was tasked with lifting several HVAC units, as well as structural steel, onto the top of the hospital's roof. Strong winds blew through the job site throughout the project, but armed with a pair of Grove cranes, Howell was able to complete the work on time and on budget.
The San Antonio-based company employed a Grove GMK6400 all-terrain crane and a Grove TMS800E truck-mounted crane for the hospital project lifts. The GMK6400, one of Grove's newest cranes, handled most of the heavy lifting, raising 7.3 t (8 USt) HVAC units to heights of up
to 61 m (200 ft).
Audie John Howell, Sr., president of the company, said he chose the GMK6400 for its reach and capacity, and that it was a great tool on the job site.
"The Grove crane did just fine in the strong winds," he said. "The GMK6400 is my largest crane and we paired it with the Mega Wing Lift and a luffing jib for even more reach and capacity. The whole project went off without a hitch."
The GMK6400 features a 60 m (197 ft) boom. When rigged with the luffing jib that extends from 25 m – 79 m (82 ft – 259 ft), the maximum tip height reaches 134 m (438 ft). With this setup, the crane can perform lifts no other six-axle, or even seven-axle crane, can currently achieve. The self-rigging Mega Wing Lift attachment used by Howell can boost the cranes' capacity by 70 percent.
The company used the TMS800E to install the luffing jib on the GMK6400, as well as lifting structural steel pieces that each weighed approximately 1 t (1 USt) onto the hospital's roof. The compact footprint of the TMS800E enabled it to move easily through the hospital's parking lot.
The Grove TMS800E has a 70 t (80 USt) capacity and a 39 m (128 ft) four-section, full power Megaform boom. A bi-fold lattice swingaway extension is also available for the truck-mounted crane that manually offsets at 0°, 20°, and 40°that reaches from 10 m (33 ft) to 17 m (56 ft).
"The GMK6400 and the TMS800E are two of nearly 25 Grove cranes in our fleet," Howell said. "They did great on this project, despite the windy conditions."
Audie Howell purchased the two cranes from Anderson Machinery, a family-owned and operated construction dealership that's been in operation since 1957.