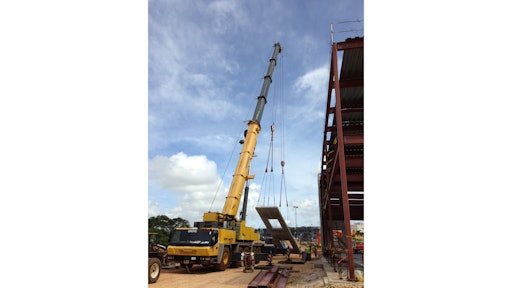 The challenge:
Lifting precast wall panels and precast stairs for the federal GAS building in Guam
The players:
smithbridge
The process:
On the small Pacific island of Guam, a Grove all-terrain crane recently helped construct a federal GSA building, which will house federal employees working in that U.S. territory.
Yigo-based company Smithbridge used the Grove GMK5275 on the job."We chose the GMK5275 for this project because of its reach and capacity," said Rick Schmidtke, crane and heavy equipment superintendent for Smithbridge. "It was equipped with 56 tons of counterweight, and we relied on the 21-ton heavy jib to erect precast panels into vertical position."
The precast wall panels were unloaded on the jobsite before being placed around the perimeter of the building. The wall panels ranged from 17 to 20 tons, which were easily lifted by the 275-ton-capacity crane. The panels were 40 feet by 10 feet in size and were lifted just a few feet off of the ground to be placed.
Precast stairs were also lifted and placed into position for the building. This required lifting the stairs over the top of the building's structure. The GMK5275's seven-section, 223-foot Megaform boom with Twin-lock boom pinning provided ample reach for the lifts.
The crane's Megatrak independent suspension and fully-automatic Allison transmission were key benefits on the jobsite, as the building was being constructed on fresh ground. Outrigger pads that measured 7 feet by 7 feet were utilized to stabilize the crane before lifting. Precast erection of Guam's new GSA building lasted just over a week.