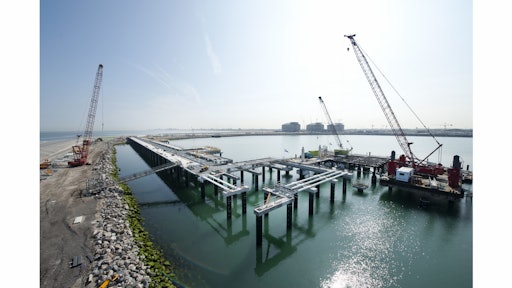 The challenge:
Build Europe's largest LNG terminal which will have the capacity to hold approximately 20 percent of France and Belgium's annual natural gas consumption
The players:
Crane House
Vinci
The process:
A team of Manitowoc crawler cranes is at the heart of building a liquefied natural gas (LNG) terminal in Dunkirk, France. The facility will be the largest terminal of its kind in Europe. The Manitowoc crawler cranes are working up to 24 hours a day in a difficult coastal environment to complete the ambitious project on time.
"Working on such an expansion project asks a lot of these cranes, plus the seafront location means they are battered by strong winds and challenging weather," says Julian Agostini, business development director at Dutch crane specialist, Crane House . "But the Manitowoc crawlers haven't let us down – they have been working continuously to a very high standard, and we are very impressed by their versatility and ease of use."
Crane House chose five Manitowoc crawler cranes to work on the project, with the first arriving in 2011. A Manitowoc 16000 and a Manitowoc 2250 were used for six months in the initial phase of the development to install underwater foundations and build a floating flat barge. As the project entered phase two in August 2013, another Manitowoc 16000 arrived on the jobsite. The project manager was so impressed with the performance and reliability of this crane, that two more Manitowoc crawlers joined the project, a 2250 and 15000.
Most of the Manitowoc cranes work along the shoreline of the project but one was assembled on an off-shore platform, providing better lift capacity over the waterfront area of the project. While this third crane presented a more challenging assembly, a team of five engineers from Crane House assembled the three Manitowoc cranes in just three days.
Most recently, the Manitowoc crawler cranes built the terminal jetty, for which they primarily poured concrete using specially designed concrete buckets. They have been working double and triple shifts, often lifting continuously for days.
The LNG project, which is being delivered by a consortium led by Vinci, the world's largest contractor, is due to complete at the end of 2015. Two Manitowoc crawler cranes remain working at the jobsite, which is among the largest construction sites under development in France.
The Manitowoc crawler cranes currently used at the project include a 15000 and 16000. As the largest crane on site, the 16000 is rigged with a 3,780-foot boom. 
The LNG terminal in Dunkirk will have the capacity to hold 13 billion cubic meters of gas – equivalent to 20 percent of France and Belgium's annual natural gas consumption. Once complete, the site will consist of three LNG storage tanks, as well as marine structures and buildings providing connections to French and Belgian gas transmission networks.
Companies in this article