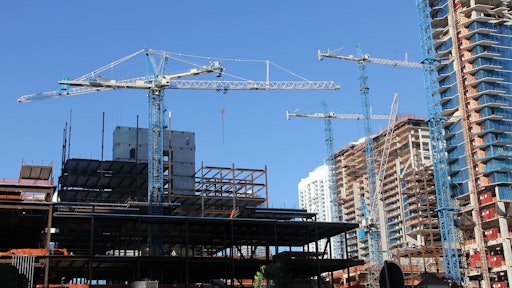 The challenge:
Construction project needs 11 tower cranes in different configurations to accomplish all the lifting needs for the 5.4 million square feet of building space being constructed at the new Brickell City Centre in Miami
The players:
Americaribe/Moriarty Joint Venture
Maxim Crane Works, L.P.
The process:
The 9.1-acre, $1.05 billion Brickell City Centre features intricate lifting requirements for its 5.4 million square feet of office, residential, hotel, retail and entertainment space. The Americaribe/Moriarty Joint Venture, the general contractor, brought in Maxim Crane Works, L.P., for the lifting work, which includes the shopping center, two office space towers, two condominium towers, hotels and apartments. "Jobsite conditions are such that several different types of tower cranes are necessary to accommodate the project's needs for coverage, while also fitting as many cranes into the project as possible," says Matt Hyden, V.P. of the Tower Division for Maxim Crane.
Final lift plans require 11 tower cranes for the project, all of them Terex. The strategy employed a mix of Terex hammerhead, flat top and luffing jib designs to safely handle all of the lifting needs at City Centre. "Due to the confined space and adjacent structures, we have specific needs where the different tower crane designs are required to meet the needs of the project, all of which are able to be met by Terex Cranes," said Hyden. "We have up to 700 feet under hook height and up to 244 feet hook reach with the tower cranes," he added.
Each tower crane design was selected to meet specific criteria. Since this is a downtown project, space is at a premium. "We need luffing jibs for work close to adjacent structures and to meet weathervaning restrictions," said Frank Fioravanti, V.P. of the Florida Region for Maxim Crane.       
With the City Centre project requiring so many crane configurations, it's inevitable that interference would be a concern. "There are as many as five interfering cranes working together in certain areas of the project," says Fioravanti, "so we used Terex flat top cranes for this part of the project."  
Flat top tower cranes are constructed without the "tops" of conventional cranes and offer lift capacities reaching 44.1 tons. "Terex flat top cranes are designed specifically for jobs like City Centre," says Terex Sales Manager Tower Cranes, Ruedi Van Coppenolle, "where space is confined or when working near airports." Maxim Crane is using the Terex CTT561/A-20 model on this particular project, which gave them a maximum jib length of 275.6 feet.
Where space is not a concern and the need for lifting speed and power were required, Maxim Crane selected the hammerhead crane design. Providing a jib length reaching up to 262.5 feet, Terex hammerhead cranes are designed specifically for heavy lifting and placement duties on challenging jobsites like City Centre. 
With the project positioned near the Atlantic Ocean coastline and constructed over 3.5-year period, Americaribe/Moriarty JV and Maxim Crane leaders had to account for and establish safety procedures in case of hurricanes making landfall. "Terex provided application engineering assistance to help develop climb sequences, tie-off points and initial freestanding configurations suitable to this job to meet hurricane wind-load ratings," mentions Hyden.
Terex transfer masts help Maxim Crane meet the stringent wind-load ratings and gain more flexibility with regard to the initial freestanding crane configurations. The transfer mast also allowed crews to more efficiently use tower crane segments between the different tower designs. "The transfer masts allow any tower crane segment to be used with the hammerhead, flat top or luffing jib crane design, regardless of what model the segment was built for," explains Van Coppenolle. "Crews can mix standard upper segments with heavy duty lower segments to deliver a maximum freestanding crane height of 140 feet, while still meeting Florida's 146 mile-per-hour wind-load standard."
More than two-thirds of the way through City Centre's construction cycle, Maxim Crane's crew and 11 tower cranes are efficiently helping to construct the site's structures. "The cranes will be on site for 16 to 24 months per crane," says Fioravanti. 
The project started back in July 2012 and has an estimated completion for the end of 2015. The Brickell City Centre project is also estimated to add 1,700 construction jobs on average each year.