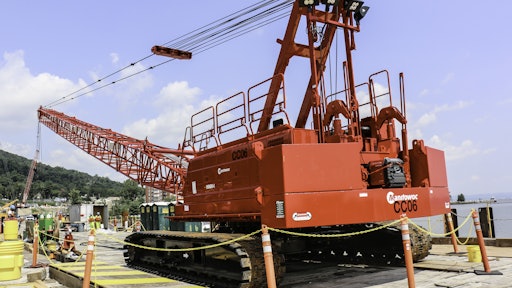 The $3.9 billion New NY Bridge is one of the largest infrastructure projects in North America. The venture is constructing a three-mile twin bridge to replace the 60-year-old Tappan Zee Bridge that spans New York's Hudson River. It is being run by Tappan Zee Constructors (TZC), a consortium composed of four contractors.
Bob Hammond, equipment manager for the consortium, says that of the approximately 30 cranes on site, 14 of them are made by Manitowoc. He joins the group from Watsonville, CA-based Granite Construction, one of the four companies that comprise TZC.
"Many of our partners in the consortium brought Manitowoc cranes to the project," he says. "Among them are a Manitowoc 11000-1 crawler crane loading and unloading supplies from barges; two Manitowoc 4600 RINGER cranes that are doing pile driving work, driving sheets, setting concrete and casting forms, and performing form work; a Manitowoc 14000 cleaning piles and handling dig out chores; and a Manitowoc 999 using a clam bucket to handle clean-out work for piles."
A Manitowoc MLC165, 3900 and 4000W are also on the jobsite, which hosts up to 500 workers on site at any one time. With some 6,000 pieces of rigging equipment and 55 rigging crews working with an armada of cranes that lift from sunrise to sundown, there is no room for error.
Unique Setups Require the Right Solutions
While several of the cranes on site were brought by consortium partners, together as the TZC consortium the companies chose to purchase the MLC165 and the 11000-1 cranes especially for the project. Both were purchased from Piscataway, NJ-based Hoffman Equipment.
"Hoffman's been a key element for us to help with assembly of the majority of the cranes we brought to the project," Hammond says. "Hoffman has also been very instrumental in helping us maintain our fleet and getting machines up and running."
The 182-ton-capacity MLC165 is set up on a barge with 177 ft. of main boom, utilizing a static list load chart configuration. The crane's list and trim meter has come in especially handy, as the crane is being used on a barge. It's floated into position before making lifts up to 20 tons at heights reaching approximately 90 ft.
"This size machine was a perfect match for their application," explains Pasquale Tomasetti, an account manager at Hoffman Equipment who facilitated the cranes' purchase. "It's extremely versatile, too. Not only is it being used as a barge-mounted crane for construction, it's also performing maintenance and assistance duties for nearly all 30 cranes on the jobsite."
TZC chose the 11000-1 for the New NY Bridge project for its versatility in setup. The group erected the crane on a trestle, which has a steel platform with wood on top to support the crane. The crane has an optimal size and design for this type of setup and its 110-ton capacity was more than adequate for the project's lift designs. Along with loading and unloading supplies from the hundreds of barges working along the waterway, it's also being used as an accessory crane, says Hammond .
"We're using the 11000-1 to convey delivery from water to land and back," he says. "Every day, something different comes in, from lumber to I-beams. Right now we have 150 ft. of boom on the crane and we're using it eight hours a day, shipping materials on and off the jobsite. Most of the loads run from 20 to 50 tons. The other day, we were loading out boom sections at 45 to 50 ft. for a Manitowoc 4600, and the loads were 6 tons."
On Site From Start to Finish
Following dredging and other preliminary work, permanent construction operations began in October 2013. As the area is cleaned out and piles are driven, construction of the bridge itself is occurring 130 miles north of the jobsite. When completed, the sections will be floated down the Hudson River for assembly this spring.
The cranes will be on site until the very end of the project in 2018. The new bridge is being built parallel to the old one, following the same basic contours. After the new bridge is finished, the cranes will stay on site to help demolish the old structure. "When working on water, you can't move anything around without a crane, so they're crucial to the project," Hammond states.