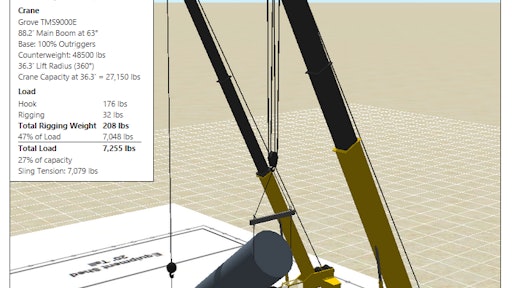 All Manitowoc customers can now enjoy access to 3DLiftPlan.com free of charge. The 3DLiftPlan.com website offers lift solutions software applications that aid customers in lift planning, crane selection, rigging planning and ground-bearing pressure optimization.
The free access to 3D Lift Plan is the result of a new partnership between Manitowoc Cranes and Fernandina, Florida-based A1A Software, a company with more than 40 years of experience in developing software for the construction industry. Customers can use the application to plan lifts with Manitowoc, Grove, National Crane and Shuttlelift cranes.
The application is accessible from any computer with Internet access and is updated automatically – customers do not need additional CAD software and or special training or hardware to use the service. It allows users to create detailed, accurate lift plans in minutes, utilizing 3D graphics and a powerful crane selection algorithm.
Dave Hull, SVP of global sales and marketing for Manitowoc Cranes, said access to 3D Lift Plan gives Manitowoc's customers a valuable tool for lift planning solutions.
"We're very pleased to offer this useful application to all of our customers free of charge because we want to give our customers the tools they need to be effective throughout the entire life cycle of their cranes," he said. "The experts at A1A software have created a very powerful application, and we know that Manitowoc customers will find great use in the program."
Tawnia Weiss, president of A1A Software, said the goal in developing 3D Lift Plan was to provide crane owners with an easy-to-use lift planning solution. "We pride ourselves on continuous innovation and in offering solutions that have a true workplace benefit," she said. "This partnership with Manitowoc is evidence that we have a shared passion for effective, accurate products built on a foundation of quality."